Male pattern baldness, otherwise known as androgenetic alopecia, is a genetic condition which causes premature hair loss. Over half of all men show symptoms of hair loss by the age of 50. 
While there's nothing wrong with going bald, many men (particularly younger men) may feel that they're not quite ready to lose their hair. 
What Causes Male Pattern Baldness? 
The exact mechanisms of androgenetic alopecia have been widely debated. The most current scientific consensus is that male pattern baldness is caused by sensitivity to the potent androgen dihydrotestosterone (DHT), which is synthesized from testosterone.
Here are three of the best hair loss treatments for men. 
Minoxidil is applied as a foam or liquid to affected areas of hair loss and can arrest hair loss in over half of men, according to well-designed studies. Minoxidil comes in either a 2% or 5% concentration. 
A randomized controlled trial looking at the effects of 5% versus 2% topical minoxidil and placebo on hair loss found that both minoxidil treatments were effective. After 48 weeks of the minoxidil treatments, both groups using minoxidil experienced hair growth. As expected, the higher percentage minoxidil solution resulted in more hair growth.
Minoxidil is not a permanent solution and needs to be applied daily to see and maintain results. Once you stop using minoxidil, hair loss will continue. The topical foam or liquid products are easy to apply and safe to use. 
Minoxidil is sold under various brand names such as Rogaine. 
Finasteride is a common and effective medication for hair loss that is taken as a pill.
Finasteride works by targeting the 5α-reductase enzyme, which decreases the conversion of testosterone to DHT. It has been licensed in the UK for male-pattern hair loss (androgenetic alopecia). 
A systematic review looking at the effectiveness of finasteride for hair loss found that finasteride increased hair growth. A systematic review summarizes the results of multiple well-designed research studies and provides us with a defined answer to a question. The results of this review concluded that finasteride increased hair count.
In two 1-year studies, 1552 men 18-41 years of age experiencing hair loss were given 1 mg of finasteride per day or placebo. The results showed that finasteride significantly increased hair growth at both year one and two of the study. Because of the systematic review we have on finasteride, these controlled studies further validate the effectiveness of finasteride as a viable hair loss treatment.
Sexual dysfunction is one of the most common side effects of finasteride, which is a concern to men considering using it. A 2016 meta-analysis found that sexual dysfunction (which includes decreased libido, erectile dysfunction, and reduced ejaculation) may occur in 3.4-15.8% of men using finasteride. Whether long-term sexual dysfunction as a result of finasteride use occurs is still unclear. Some research shows long-term finasteride use is associated with persistent erectile dysfunction in 1.4% of men. 
---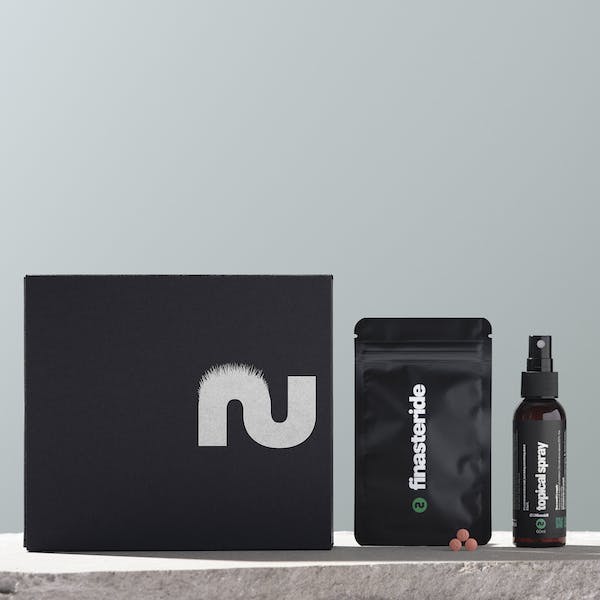 Complete Hair Kit
Battle hair loss with two science-backed treatments.
---
3. Dutasteride
While dutasteride isn't approved as a hair loss treatment in all countries (including the UK), it is available as a prostate medication. Dutasteride works to treat male pattern baldness in a similar way to finasteride, primarily by decreasing DHT - but has a broader range of targets too.
A randomized placebo-controlled trial compared the effects of dutasteride, finasteride, and placebo in 917 men experiencing hair loss. After 24 weeks, dutasteride was shown to increase hair growth the most, followed by finasteride. As expected, the placebo group didn't see any results.
Another randomized controlled study also concluded that dutasteride was more effective than finasteride.
Despite being effective, dutasteride isn't licensed and approved as a treatment for hair loss by both the United Kingdom's Medicines and Healthcare products Regulatory Agency (MHRA), and the U.S Food and Drug Administration (FDA). 
The reason why dutasteride isn't approved hasn't been disclosed in detail. One possible reason could be because 5α-reductase inhibitors (5-ARIs) such as dutasteride may slightly increase high-grade prostate cancer risk, according to an FDA safety report. 
The numan take
You can combine treatments such as minoxidil and finasteride for better results, but ultimately, the treatment that works best for you is an open question and may take a couple of tries to answer. Consulting a medical professional or hair loss expert is a great way to ensure you're on the right track. 
Of course, not everyone wants to talk about hair loss face to face - luckily, there are online resources that you can use to get the treatment you need. Try our online questionnaire to get started.
Related articles:
Finasteride vs minoxidil: which is best?
What are the most common causes of hair loss?
Do hair loss medications have side effects?