Transform your body, transform your life
Experience a holistic weight loss programme which combines groundbreaking medication with continuous, personalised coaching and clinical care.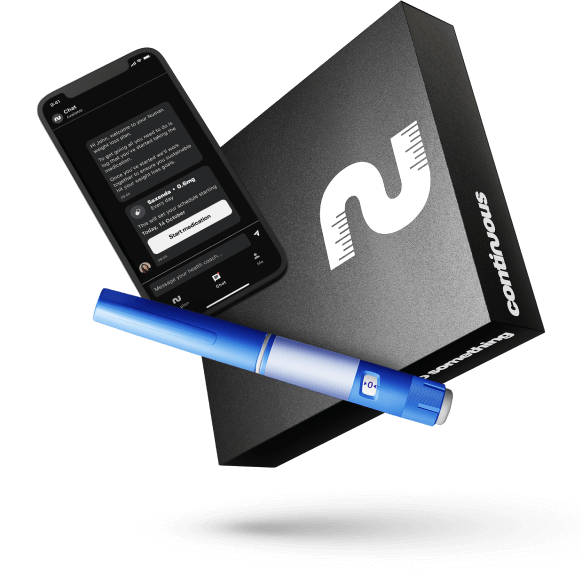 See results after 4 weeks
Tackle weight loss from every angle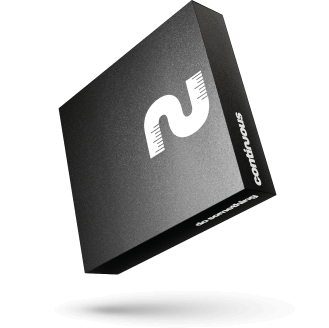 GLP-1 medicines drive up to 15% weight loss
Give your metabolism a helping hand with medication proven to curb your cravings.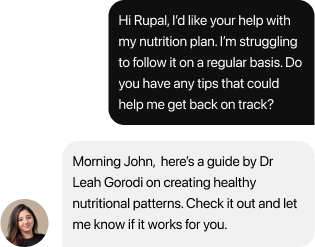 Continuous human support
Don't do it alone. Clinicians track your journey, coaches keep you motivated.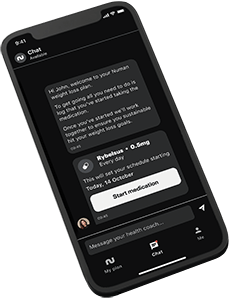 Tailored plans to shift your behaviour
You're in the driving seat. Our coaches will create a holistic plan around your lifestyle.
A
holistic, medically guided path

to weight loss
Medicine
Control your appetite and cut cravings
Sleep
Optimise energy, learning, and recovery
Nutrition
Develop healthier food choices
Exercise
Make movement work for you
Mindset
Beat stress and stay motivated
Game-changing medication that addresses your appetite
Scientifically proven GLP-1 medications are already an established treatment for type II diabetes. Following promising clinical trials that showed their effect on suppressing appetite, they've now been approved for weight loss when combined with a balanced diet and lifestyle.
Stay satisfied between meals

Prescribed and monitored by clinicians

Non-addictive treatment
*Some GLP-1's are shown to drive an average of 14.9% body weight loss over 68 weeks.
Start your online assessment
14.9% body weight loss
over 68 weeks*
Feel full faster and for longer
Kick snacking so you can focus on healthy eating habits
Dampen your craving for dairy, savoury, sweet, and high-fat foods
Scientifically proven, clinically prescribed
GLP-1 medications – such as semaglutide and liraglutide – are the active ingredients in Rybelsus, Saxenda, and Wegovy. By mimicking your naturally-occurring GLP-1 hormones, they act on your gut and brain to make you feel full faster and for longer.
Are there any side effects?
GLP-1-related side effects tend to be mild and short-lived while your body adjusts to the medication and dose. Common side effects include an upset stomach for the first few weeks, e.g. nausea, diarrhoea, stomach cramps, bloating, and belching.
If you're struggling with side effects at any point, our clinicians will be on hand to advise you on how to manage them until they pass. As with all medication, please read the leaflet for more information.
Focused on healthy, sustainable, long-term change
Because everyone's different, it's hard to say how long it will take to get the results you're after. But remember, sustainable weight loss is often a gradual process.
That's why our programme is holistic, focusing not only on your biology but also on nutrition, exercise, sleep, and mindset. If you focus on these behavioural pillars with your coach, you'll give the medication an even better chance of working its magic.
Losing even 5% of your body weight significantly lowers your chance of developing high blood pressure, high cholesterol, and diabetes. But that's not all. Before long, you should also feel benefits such as improved sleep, stamina, and energy levels.
Get started
Lose weight gradually - and keep it off for good
Meet your care team
Our trained professionals are ready to help you thrive on this programme and succeed with weight loss.

Prof Sam Shah
Chief Medical Strategy Officer

Dr Luke Pratsides
Lead GP

Ms Danielle Brightman
Clinical Lead

Ms Rupal Joshi
Clinical Lead
What to expect from this programme*
Begin your journey
Take online assessment

Receive medication after clinical review

Meet your clinician and coach
Start your journey
1–6 months
Medication regulates your appetite

Get your energy, confidence, and stamina back

Watch your weight loss accelerate
6–12 months
Lose a potentially life-changing amount of weight

Benefit from improved cardiovascular and metabolic health

Enjoy your new lease on life
*Weight loss is an individual journey. Your own progress will depend on your lifestyle and personal goals.
How Numan works
Healthcare without the hassle
Effective medication delivered for free in plain packaging
On-hand clinicians overseeing your treatment journey
Bespoke action plan linked to relevant digital content
Free shipping within 24h of prescription approval
Unlimited messaging with qualified coaches via the app
Cancel anytime, no strings attached
The service offered is excellent
The service offered is excellent, everything is explained well and I felt a level of confidence even when I made a mistake. Customer service was quick in responding.
Excellent service
Excellent customer friendly and fast service
Very easy to find out information
Very easy to find out information, order and at a good price.
Got what I ordered and delivered on time
Just what you should expect, the correct item and on time. 10 out of 10.
Happy with my order from Numan worth…
Happy with my order from Numan worth every penny.