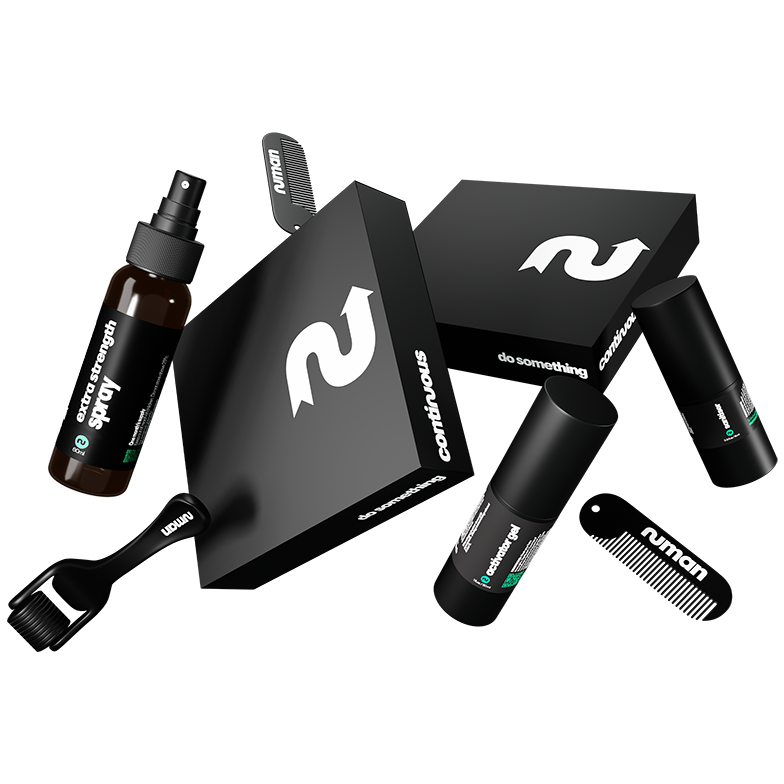 Beard Growth Kit
(Extra Strength Spray and beard accessories)
The Beard Growth Kit contains all the essentials you need to grow a thick, healthy-looking beard. It includes Extra Strength Spray (which can stimulate beard growth and fill in patches) as well as an assortment of free beard care accessories to help you groom and nurture your beard.

Your first Beard Growth Kit will contain a Beard Roller, Activator Gel, Beard Comb, Sanitiser and Extra Strength Spray. After you receive your first Kit, we'll send you a new Extra Strength Spray each month so you can stay on track with your beard growth journey.
Takes effect in
2-4 months
Effects last
Continuously when used daily
Our promise
If you're new to Numan, here's how we do things.
Trusted
We're regulated by the Care Quality Commission.
Supportive
Our team of clinicians and health experts can support you along every step of your treatment journey.
Discreet
All our deliveries are free, discreet and fast.
Beard Growth Kit: the science
Minoxidil is the active ingredient in Extra Strength Spray. It's commonly used for male pattern baldness but has recently been found to promote beard growth.
It works by widening blood vessels and delivering nutrient-rich blood to the hair follicles.
It can also extend the growth phase of the hair growth cycle, increase the size of hair follicles, and widen the diameter of individual hairs. This can lead to a thicker, bushier beard.
How beard growth treatments work
Normally, it takes around 1 to 3 months to notice any changes to your beard when you start using a beard growth treatment.
New hairs should emerge after a few months of continuously using the Beard Growth Kit. You should begin to notice increased beard growth and a fuller beard.
After four months, you should notice a significant improvement as thicker hairs fill in patches of uneven growth and give your beard a denser appearance.
How Numan works
It's healthcare without the hassle.
Free online consultation
Once complete, your consultation will be reviewed by our clinicians. Most prescriptions are approved the same day. Free, discreet, speedy delivery
If your treatment is approved, it'll be dispatched to you discreetly within 24 hours.
Continuous care
Have any questions or want to change your medication? Speak to our clinicians and they'll be able to help.
Cancel anytime
If you're not happy with the service, or simply don't need treatment anymore, you can cancel anytime.
Beard Growth Kit: facts you need to know
Straightforward answers to frequently asked questions.