Men tend to lose their hair from a surprisingly young age, with 16% of men under 30 experiencing moderate to extensive hair loss. This figure increases to 53% in men aged 40-49. There's a common misconception that losing hair is inevitable and hair treatments don't work for anyone, but this is absolutely not the case. We caught up with Ben, 33, who had no luck with hair loss products - until he found Numan's finasteride treatment.
When did you first start to notice hair loss, and what happened?
About four or five years ago, my hair thinned out around the crown and began receding. It wasn't falling out continuously but it was noticeably thinning out in those particular areas.
---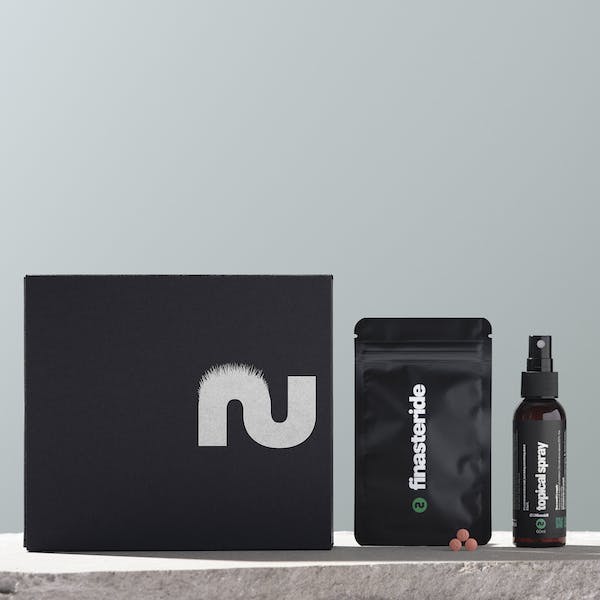 Complete Hair Kit
Battle hair loss with two science-backed treatments.
---
Did you try any other treatments?
I tried the caffeine shampoos. I was spending a lot on them. They would sometimes come to £30 or £40 just for one shampoo. I had no results whatsoever and went through pretty much all of them. Nothing gave me results like taking finasteride. It's not exactly given me a huge head of hair but it's restored my confidence.
As well as an aquarium builder, I'm also a YouTuber. So I make a lot of videos. Before, I'd hate it, because I'd be trying to make sure that the camera wasn't on the top of my head where the hair loss was more noticeable. Now, things are completely different. I'm not fussed if it's on the top of my head as I know it's nowhere near as bad as it used to be.
Did hair loss impact your confidence or mental health?
Yes, it did, massively. I was constantly worrying about it, always checking it and touching the back of my hair. Every time I was doing my hair in the morning, I would stress about how bad it looked. When you know it's there, it does knock your confidence.
A big part of what we do is share knowledge and encourage men who want to do something about hair loss actually take action. What do you wish you'd known about hair loss treatments before?
Don't go through all the wasted money on the shampoos and other products like that. I wish I'd tested out finasteride sooner and saved on all the stress and lack of confidence over the years.
There's a lot of worry about the side effects but I haven't experienced any side effects at all. It's worth trying as everyone responds differently to treatment.
One of our biggest issues with hair treatments is encouraging men to stay patient and consistent. Do you have any advice on how to keep up with the treatment?
When I bought the treatment, I decided I wanted to focus on the results I would see in six months' time. I have to be quite patient in my job so I knew I shouldn't expect to see results straight away. So I took photos every two or three weeks but only worried about the difference I would see in six months' time. I decided not to get caught up in what was happening in between. And the six-month transformation pretty much speaks for itself.
Related articles: