Sildenafil (also known as sildenafil citrate and "the little blue pill") is an erectile dysfunction (ED) treatment well known for its ability to make erections harder and longer-lasting. It's a very well-studied ED treatment and is widely understood to be safe for most men to take. 
However, like most medicines, sildenafil can cause side effects - although not everyone gets them. Most men who take sildenafil do not experience side effects, but if they do, they are usually only mild in nature. 
Nonetheless, it's still good to be aware of any potential side effects before taking any erectile dysfunction treatment (or any medication) for the first time, which is why we'll outline them for you here.  
What is sildenafil?
Sildenafil is a medicine used to treat erectile dysfunction symptoms. It belongs to a group of medicines called phosphodiesterase type 5 (PDE5) inhibitors, which are usually the first types of medicines doctors prescribe to treat erectile dysfunction.
Like other PDE5 inhibitors such as tadalafil and tadalafil daily, sildenafil is a prescription-only erectile dysfunction treatment. This means you can only get it once your health and medication history has been assessed by either a doctor or clinician. 
Our team of clinicians can do this quickly and easily via a free online consultation. If sildenafil is right for you, our clinicians are often able to prescribe it the same day and have it discreetly delivered to you within 24 hours. 
How does sildenafil work?
Sildenafil works by helping to relax the blood vessels in your penis, allowing blood to flow in when you're sexually aroused and produce an erection.
Contrary to common myth, the penis is not a muscle. You can't get it hard simply by flexing it like you would a bicep. Instead, it's a rod of spongey tissue that gets hard when blood flows into it. The more blood that flows into the penis, the harder it becomes. Think of it like a balloon, if that helps.
By increasing the flow of blood to the penis, sildenafil can generate stronger erections in men with erectile dysfunction. Other PDE5 inhibitors work in a similar way, which is why they're so effective at treating ED. 
Let's break another myth. Taking sildenafil - or any other PDE5 inhibitor - won't give you an instant erection. It usually takes an hour to kick in and will stimulate an erection only when you're sexually aroused. 
This is helpful because this gives you more control over your erections and allows you to get an erection when the time's right. After all, it would be pretty inconvenient to take a tablet that gives you an instant erection against your will. 
Sildenafil's effects last for around four hours. But fret not, this doesn't mean you'll have a constant erection for hours on end. It just means that you'll be able to get an erection when you need one during the four hours that it's active in your body. 
Sildenafil side effects  
Sildenafil has been used as an erectile dysfunction treatment for over 20 years and is clinically proven to be safe and effective for most men. 
Like any medication, though, sildenafil can sometimes cause side effects. Not everybody gets them and most of the side effects reported with sildenafil are fairly mild and don't last long.
The most common side effect of sildenafil is headache, affecting about 25% of people who are prescribed it.
The good news is that treating headaches as a result of taking sildenafil can often simply be a case of altering the dose that you are taking. A study from 2000 showed that there was a significant difference between the likelihood of experiencing side effects in higher doses compared to lower doses.
At Numan, we prescribe 25mg, 50mg, and 100mg of sildenafil. If you're on 100mg or 50mg and feel you would benefit from lowering your dose, don't hesitate to reach out to our clinical team who can advise you on how best to proceed.
Other potential common side effects to be aware of include: 
Stuffy nose.
Nausea.
Facial flushing.
Suddenly feeling hot.
Blurred or colour-tinged vision.
Dizziness.
Indigestion.
If you are prescribed sildenafil tablets, a full list of sildenafil side effects will be provided in the Patient Information Leaflet (PIL) that comes with your medication. You should read this before taking sildenafil for the first time to help you take it safely. Sildenafil tablets should not be taken if you are allergic to sildenafil or any of the other ingredients used to make them. A list of these ingredients is also included in the PIL.
Sildenafil vs tadalafil: which has a lower chance of side effects?
A recent large-scale analysis of 16 different clinical trials showed that sildenafil and tadalafil have similar efficacy and safety profiles, meaning they are just about as safe and effective as each other. If you're weighing your options up and don't know which of these ED treatments to choose, you can rest assured knowing that they are both safe for most men to take. 
Can I take sildenafil with other medications?
There are some medications that can interact with sildenafil if you take them both at the same time. It's important to talk to a clinician before taking sildenafil to make sure that it's safe for you to take and won't interact with any medications you're taking. 
You should not take sildenafil if you are:
Taking medicines called nitrates (which are often given for relief of angina pectoris [or "chest pain"]). Combining these may lead to a dangerous fall in blood pressure. 
Using any of the medicines known as nitric oxide donors such as amyl nitrite ("poppers"). Taking these at the same time as sildenafil may also lead to a dangerous fall in blood pressure.
Taking riociguat.
Is there anything else to know before taking sildenafil?
As with any medicine, it's always best to read the Patient Information Leaflet (PIL) that comes with your sildenafil tablets before taking them. We at Numan also provide a link to a Safety Information Page for easy reference, so you can check important safety information with greater convenience. 
Certain conditions can make it unsafe to take sildenafil. You should not take sildenafil if you have: 
A severe heart or liver problem.
Recently had a stroke or a heart attack, or if you have low blood pressure. 
Certain rare inherited eye diseases (such as retinitis pigmentosa).
Ever had loss of vision due to non-arteritic anterior ischaemic optic neuropathy (NAION).
If you have (or have ever had) any of these conditions, PDE5 inhibitors such as sildenafil are unlikely to be suitable for you. If this is the case, other erectile dysfunction treatments may prove to be more appropriate.
This is not an exhaustive list of conditions that make sildenafil unsafe to take. It's highly recommended that you consult a clinician before taking sildenafil tablets so that you know if they're safe for you to take. 
 The numan take
Sildenafil is a generally safe and effective treatment for erectile dysfunction. Like most medicines, it may cause side effects in some people, however, not everyone gets them. Many clinical trials spanning over 20 years have found it to be safe for most men to take. 
Common sildenafil side effects are headache, indigestion, a stuffy nose, facial flushing, suddenly feeling hot, blurred or colour-tinged vision, nausea, and dizziness. If you do happen to experience these side effects, they should only be mild and shouldn't last long after you stop taking sildenafil. 
Always talk to a clinician before taking sildenafil to ensure it's safe for you to take and won't interact with any medication you're taking. If you are prescribed sildenafil tablets, read the Patient Information Leaflet provided with it thoroughly before taking the medication.
Related articles:
Related products:
---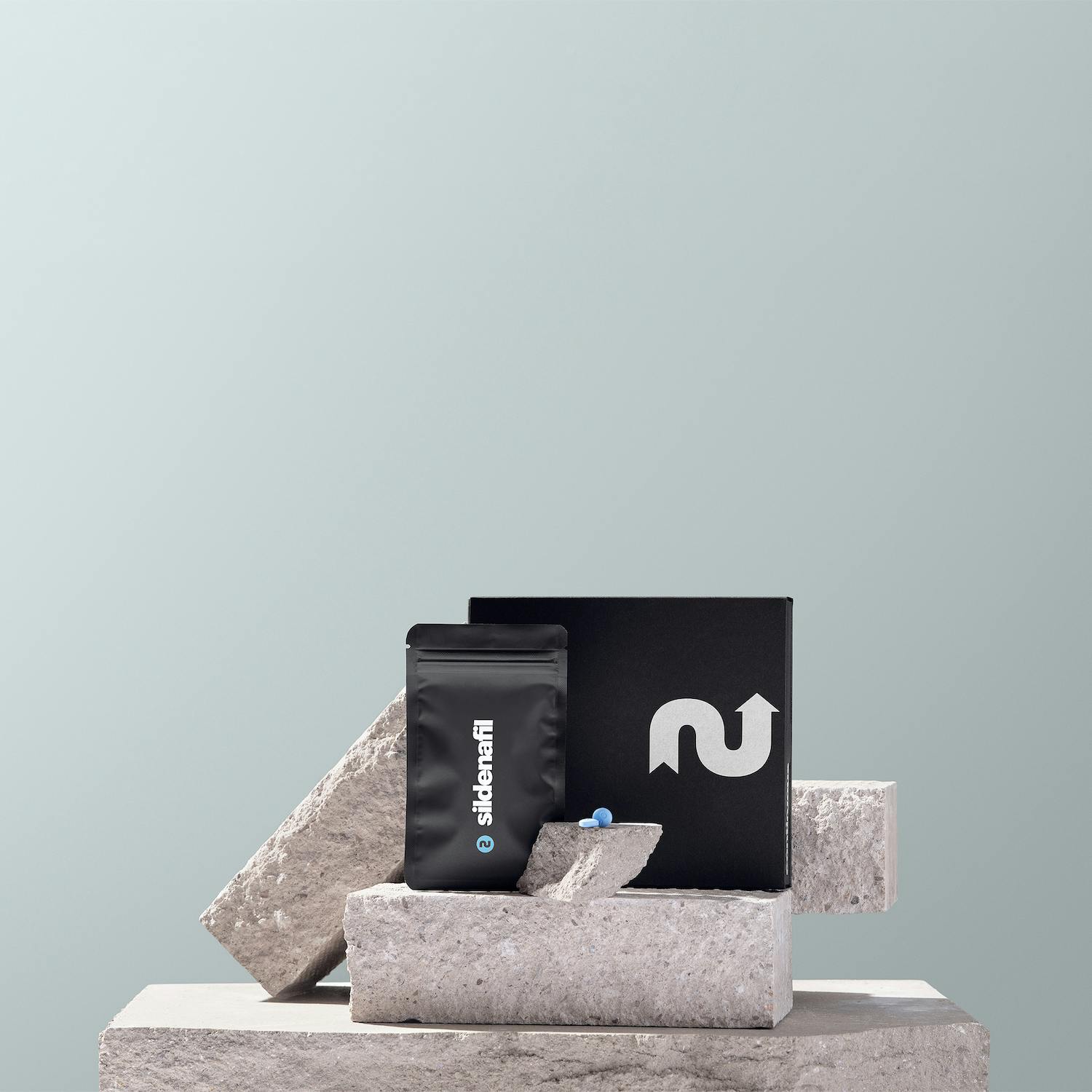 Sildenafil
Do something about erectile dysfunction.
---