Minoxidil can completely transform your head of hair, from thinning and balding to thick and healthy. But does it have the same results when it comes to beard growth? Here are 5 things we know to be true about minoxidil for beard growth:
1. Minoxidil is safe to use
Before using any treatment, it's important to be sure that it's safe, as well as effective. Plenty of studies have been carried out on the safety and efficacy of using minoxidil for different types of alopecia, including the most common, male-pattern baldness. Results have indicated that it is safe to use, and a study which specifically looked at the safety and efficacy of minoxidil for beard growth found that the treatment caused few adverse side effects.
2. It's an effective treatment
In a study on the effectiveness of minoxidil for beard growth, men who were using the treatment demonstrated a greater increase in hair density, and superior self-assessment results, when compared to men taking the placebo. You can also search for before and after minoxidil photos on sites such as Facebook and Reddit to see some incredible results.
3. You can get lasting results
You do have to take treatment continuously to see results, otherwise hair growth will fade after around 3 or 4 months. However, incorporating the treatment into your routine means the effects of the treatment will be continuous.
Minoxidil works by supplying blood flow to the hair follicles, increasing the density of the hair and promoting regrowth. It also extends the 'growth' phase and the diameter of the hair, so it appears thicker, fuller and healthier.
4. You can buy minoxidil easily
Getting your hands (and face) on minoxidil is a fairly straightforward process. For high strength minoxidil, which is likely to maximise results, a simple online consultation will enable you to purchase the product. You may also be recommended other hair loss treatments which will be of benefit to you. Treatment bundles, which include serums and derma rollers, will likely boost the results you see when applying minoxidil for beard growth.
5. Minoxidil typically has few side effects
Minoxidil is safe to use, although some people may experience some side effects such as dryness and itching. A good moisturiser should help alleviate this. 
Although rare, some people experience slight heart palpitations as a result of using too much treatment. Minoxidil was originally used to treat people with hypertension and works by widening blood vessels. If you have high blood pressure or take antihypertensive medication, you should consult your doctor or pharmacist before using minoxidil.
Common minoxidil side effects include:
Itching, dryness or irritation of the skin
When too much treatment is applied, minoxidil side effects include:
Heart palpitations
Increased hair loss
Abnormal/ increased hair growth in unwanted areas
Dizziness
Low blood pressure
Blurred vision
Only mild adverse reactions were reported when a study investigated the effects of minoxidil on beard growth.
The numan take
Minoxidil for beard growth is a recent trend, but some people have seen fantastic results. Studies on the medication indicate it's safe to use, although you may experience some side effects, such as dryness or itchiness. 
Early studies on minoxidil for beard growth demonstrated mild adverse effects and found it to be an effective method in treating beard growth. Minoxidil can easily be purchased through an online consultation and you may find a treatment bundle gives you the best results.
Related articles:
From sprays to steroids: the best alternatives to a hair transplant
David's 5 month hair re-growth story
Do hair loss medications have side effects?
---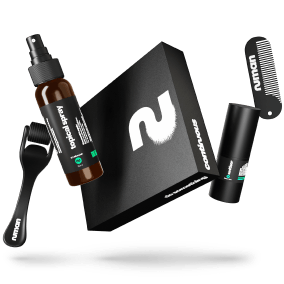 Beard Growth.
Grow thick and healthy bristles.
---