• Sex writer and Radio 1 presenter, Alix Fox, answers every question you ever had about sex toys (and perhaps a few you didn't have... until now)
• "Many gadgets and gizmos are endlessly adaptable, and can be used on nipples, inner thighs, feet… "

Today's pleasure products are increasingly stylish, sophisticated and imaginative, opening up new avenues for excitement and exploration, and expanding our definitions of what constitutes a great sexual experience way beyond mere pole-in-a-hole intercourse.
But it can be tough to wrap your head around what's out there, and how it's all supposed to wrap around/slide inside/buzz against a person's body. Whether you need a clear, start-here, no-BS primer on the basics or you've already experimented but want to tune your knowledge up a notch, sex expert (pictured above) Alix Fox's play-by-play guide will help you turn on those good vibes. 
Word to the wise: here, toys are presented according to the body parts they're primarily designed to titillate, to give you a good grounding in what's intended to go where. But many gadgets and gizmos are endlessly adaptable, and can be used on nipples, inner thighs, feet… Just remember the Hokey Cokey rule when it comes to orifices: make sure anything that you put in, you can take out again.
Enter the ballpark: Toys for penises and testicles

Cock rings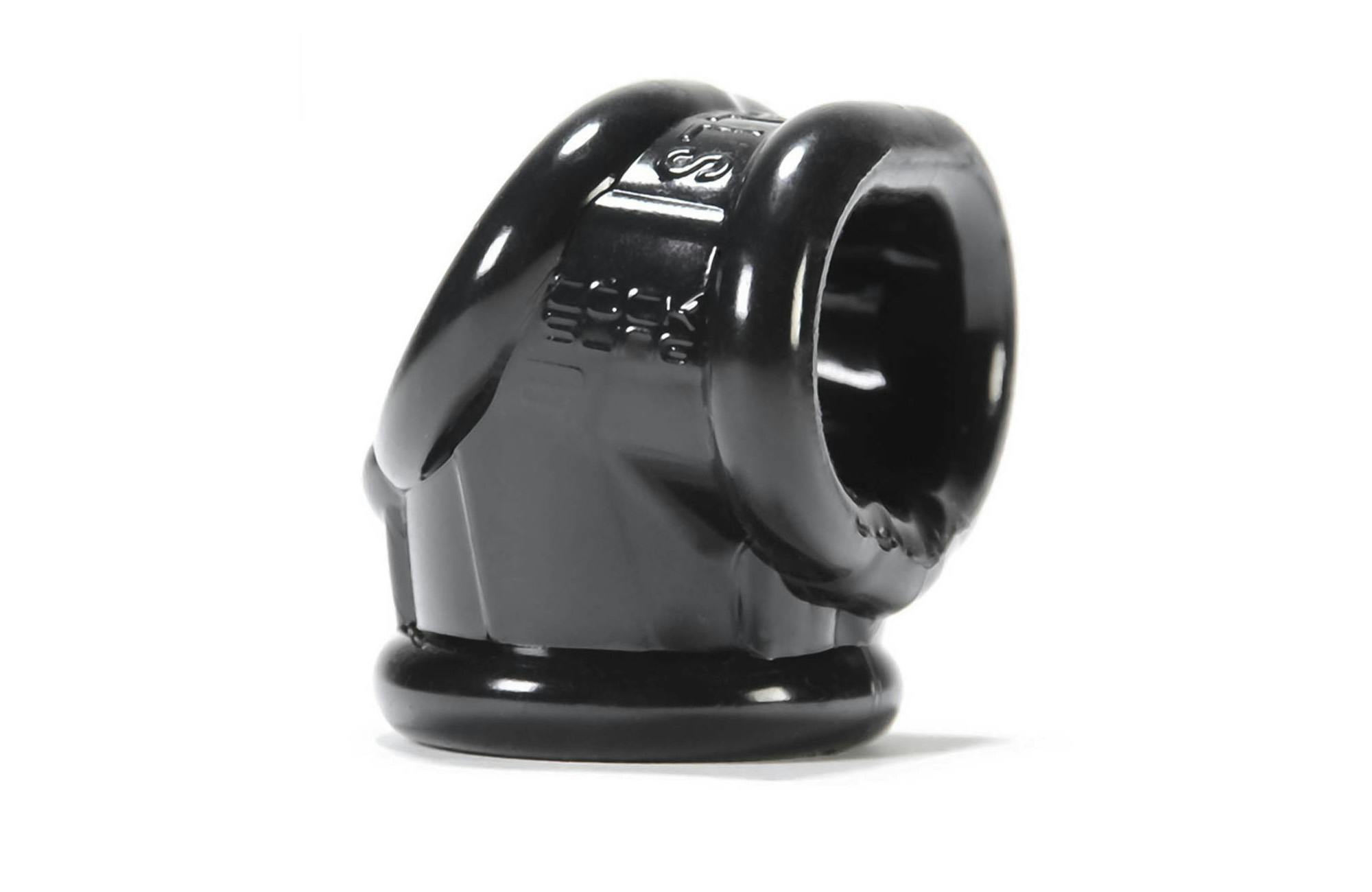 The CockSling 2 from Oxballs

Penis rings are designed to help guys sustain stronger, thicker erections for longer by gently squeezing the base of the shaft, stopping blood from flowing out too quickly. But as well as acting as boner buoyancy aids by keeping the penis engorged, these little lifesavers can also make ejaculation feel more intense.
Beginners should start with a soft, gummy style like the Durex Pleasure Ring. You put these on once you're already hard. Slick your skin and the ring with a dab of water-based lube to help it slide on friction-free, then stretch it over your hard-on until it nestles against your groin.
Had a go, and decided you're more into rings than Sonic the Hedgehog? Try graduating to one made of metal (Crowned Jewels are stunning) or thicker plastic for a firmer grip and weightier feel. You put these on while you're flaccid, and you can thread your testicles through them as well, so your whole package is held under pleasurable pressure.
Sex educator Luke Douglas has advised more gents on rings than your local wedding jeweller, and he rates the Oxballs CockSling 2: "It's comfortable, but with a rugged aesthetic, and gives your balls an extra stretch."
So, if you like it (to stay harder longer and experience amped-up orgasms) then you shoulda put a ring on it. Which, when written down, sounds like advice being given by Mario and Luigi rather than Beyoncé, but it's still solid — just like your willy will be.
One word of warning: it's generally advised not to wear penis rings for more than about 30 minutes, to maintain healthy blood flow, and never fall asleep in one. Don't let your D land you in A&E.
Stimulation sleeves and male masturbators
These are penetrable toys made of silicone or soft, velvety real-feel materials, which have various exciting textures inside them that stroke against your penis. You lube them up (top tip: switch up the viscosity of your lubricant to give different sensations, with more slickness or drag — I rate the System JO range), then use them to masturbate. Alternatively, a partner can use one on you for a hand job so good, you'll want to grow an extra hand yourself just so you can give them additional high fives.
The most (in)famous company here is Fleshlight, who specialise in making masturbators that replicate body parts (and, um, ice hand grenades). No shame if that's your game, but not everyone likes their toys to look like they belong in Ed Gein's living room or some Game of Thrones/Battlefield mash-up.
Japanese brand TENGA is your go-to for more graceful aesthetics — its name even means 'righteously arranged and elegant', and was traditionally used to praise the beauty of a kimono. Check out the Spinner — a sleeve with a clever coil inside that makes it rotate with each up-and-down movement — and the Flex, which has valves that create a vacuum sensation.
Some folks find toys like these helpful to train themselves to last longer during partnered sex, by getting them more used to sensations that feel different to their own palms, and gradually increasing the suction and intensity.
Guybrators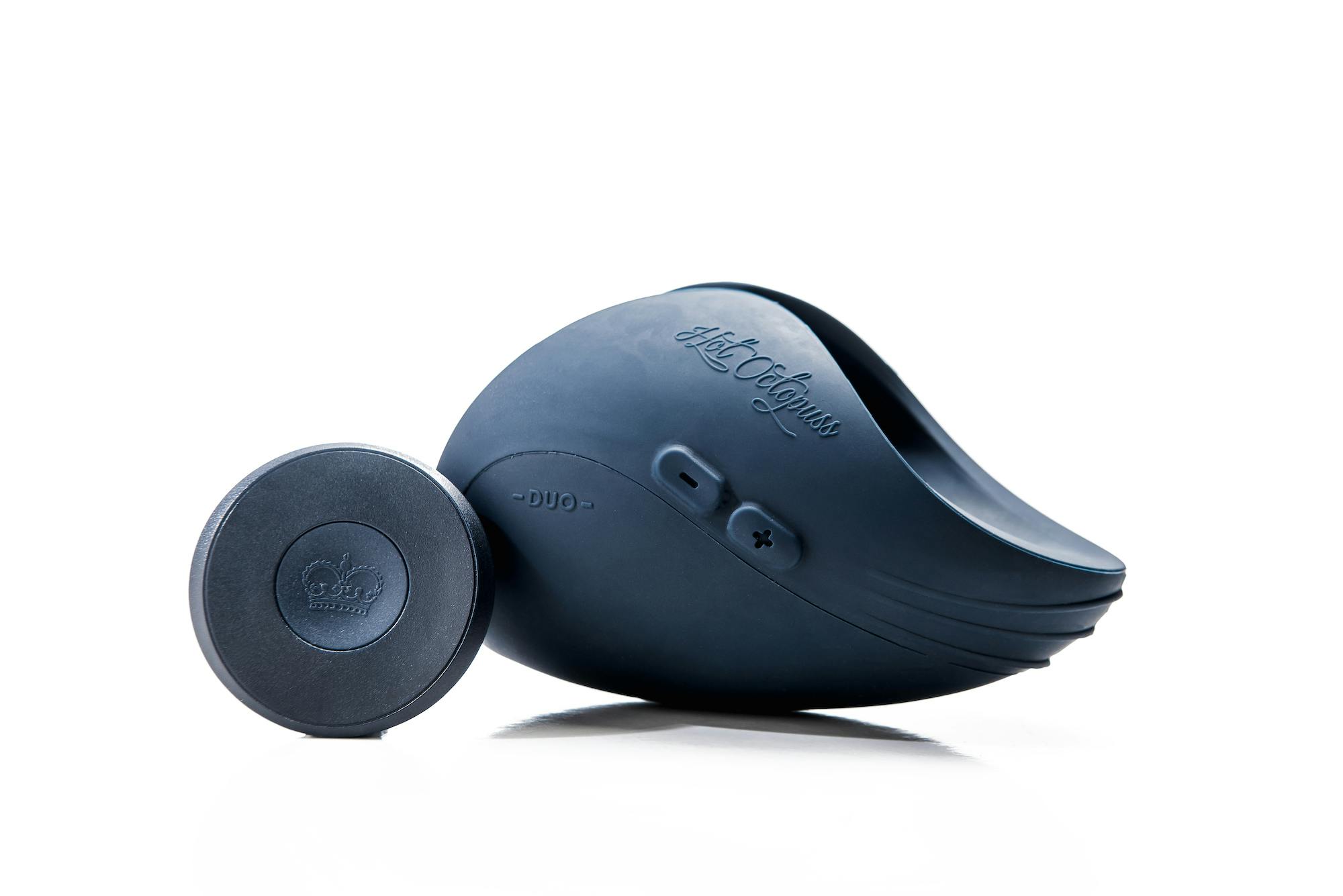 PULSE III Duo from Hot Octopuss

Most vibrators can be used on dudes as well as dames, but now there are vibes especially designed for people with dicks. The pioneer here is Hot Octopuss (testicles: meet tentacles). Their ground-breaking PULSE toys cradle the penis, and can elicit orgasmic feelings even from flaccid members: "We employ oscillating medical technology originally used in hospitals to help men with spinal cord injuries ejaculate for IVF purposes," explains co-founder Julia Margo.
Their new JETT pleasure object is a ring that sits just below the head of the penis. Fitted with two vibrating bullets, one emits rumbly bass vibrations while the other a buzzy treble, which you can customise to your tastes. JETT off while you get off.
Pussy riots: Toys for clitorises and vaginas

Rabbits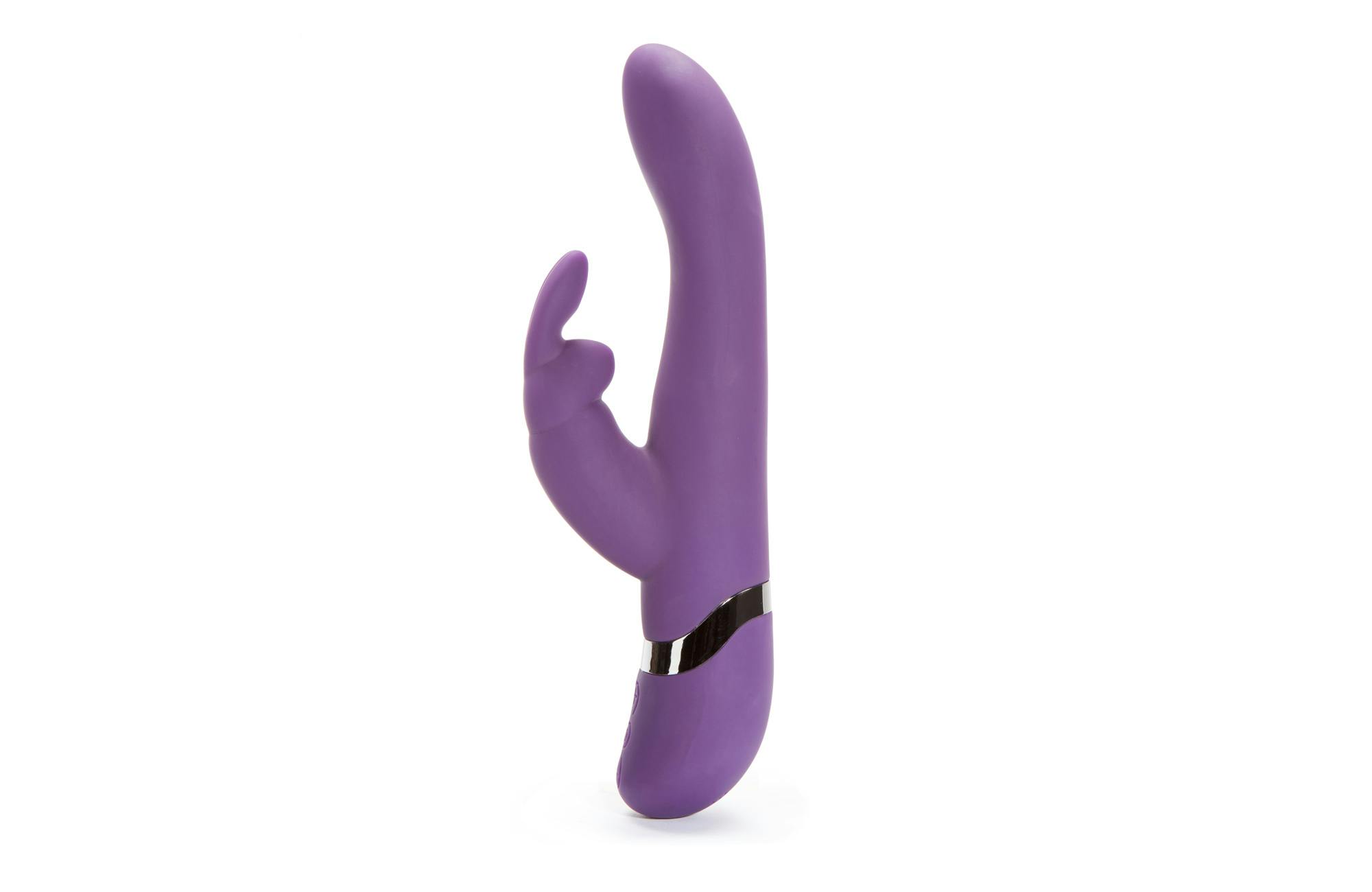 Desire rabbit from Lovehoney

Like Elmer Fudd chasing Bugs Bunny, women looking for the first toy to introduce to their velvet re-vulva often run straight towards the classic rampant rabbit. Ann Summers, who introduced bunny-style vibes to the UK in '91, still sells one every two minutes, and there are good reasons why the shape remains so popular. Vibrating ears provide the direct clitoral attention that umpteen studies show the majority of women require in order to climax, whilst the insertable shaft gives a feeling of fullness and massages the 'G-spot' — a patch of flesh 2-3in up inside the front vaginal wall. While not a distinct anatomical structure, the G-spot is now recognised by many medics as an area through which internal, hidden parts of the clitoris may be stimulated, pieces of a larger network of interacting tissues collectively called the clitourethrovaginal (CUV) complex.
They're more versatile toys than many assume, too. "To experiment with anal play, twist your rabbit round so the ears stimulate your perineum," suggests Lovehoney sexpert Sammi Cole (quick note: bacteria from bottoms aren't good for front-bums, so do take care to clean toys as necessary when using them both vaginally and anally).
However, educator Ruby Rare, who runs workshops to help newbies navigate the world of erotic toys, makes the valid point that "while rabbits can be a great addition to toy collections, I advise people starting out to try separate clitoral and internal toys. That way, you're finding exactly what works for you and can angle them perfectly to fit your body. It can also be fun for one partner to be in control of the internal toy while the other is in charge of the clitoral."
Dildos and vibrators

The difference? A vibrator buzzes, a dildo dil-doesn't. "When choosing a dildo or other internal toy, start small, and think about it as a new experience rather than a penis replacement. So instead of just thrusting it in and out, try moves like keeping it inside but circling it round," comments Ruby.
Gone are the days of solely 'realistic', rubber, false phalluses, the same beige hue as a support stocking and veinier than the varicose-ridden calves such garments tend to cover (although you can get those too, if skin's your thing). Godemiche's hand-poured silicone schlongs swirl with galactic glitter; Icicles, craft glass objects d'amour, can be submerged in hot or chilled water to mix up sensations, and artist Adele Brydges runs classes where you can decorate your own artisan ceramic dildo, left hollow so it can be filled with liquid to alter the weight and temperature, then corked closed. I've legitimately used mine as the sauciest way to serve cocktails: a hot toddy in a pot todger.
If you're looking to chase your first buzz, Renee Denyer, manager of female-centric erotic emporium Sh! cautions that "vibration can feel overwhelming if you're not used to it, so something with a larger surface area that diffuses the sensation can help ease you in." She recommends the USB-rechargeable CalExotics Mini Marvels Marvelous Teaser, or the Rocks-Off Finger Tingles and Dame Fin — which add a mild reverberation to your hand, giving fresh dimension to how you already intuitively touch yourself. Then there's Iroha's Zen stimulators, which have a pretty silhouette inspired by the chasen, a whisk used in Japanese tea ceremonies, and a deliciously squishy, marshmallow-soft texture that's gentle and unintimidating.
On the flipside, if you and your kitty are already well acquainted with vibration and want to expand your purr-rizons, consider new-cummer Zumio: its teeny-tiny tip whirls around in minute circles on your clitoris, providing unique pinpoint pleasure. Then there's the Womanizer range, which uses rapid pulses of air to stimulate the clit without even touching it. Its DUO model also sports a vibrating vaginal probe that targets the G-spot. It looks like a Star Trek spaceship but it'll make you — ahem — Sponk all over the place. I've got one and I love it more than breathing, which I sometimes forget to do while I'm using it.
Toys 'r' ass: Anal play

Butt plugs

The bottom line when it comes to choosing anal toys? Whilst the coochie is a cul-de-sac — so anything that gets 'lost' inside a vagina can usually be fairly easily retrieved — the back passage is not, so whatever you put inside your rectum must have a flared base or substantial handle to avoid it disappearing into your derriere. Bums don't make their own moisture either, so lashings of lube are essential — I recommend YES BUT.
In (cis) men, the prostate — a walnut-sized gland that produces the majority of the fluids that make up semen — can be massaged if you reach 7-9cm inside the butt. For many fellas, this feels orgasmically glorious, but that doesn't mean 1/ toys have to delve that deep to feel great, nor 2/ that butt plugs can't be fun for women too. The anus is rich in thrilling nerve endings for all sexes, and as Phoebe Frosts observes, "If a woman wears a butt plug during penetrative vaginal sex, it can help to press the penis against her G-spot." Plus, if you want to move on to something more challenging like anal intercourse, then relaxing, gradually stretching and warming up the anal muscles with plenty of play is essential; plugs can be an electric part of that.
Satisfyer has just launched a trio of slim, lightweight silicone pastel plugs that look like unicorn horns, and are perfect for beginners with the horn to give butt stuff a go. Brand specialist Charlotte Joseph advises an insertion technique she calls 'clocking'. "After applying loads of lube, very slowly angle the plug into the musculature of the anal sphincter and rotate it like the hands of a clock. You should trigger a reflex muscle reaction which, combined with simultaneous arousal, will act to draw the plug in automatically." It's worth practicing with plugs alone to familiarise yourself with the feelings, so you'll feel more confident during a partnered experience.
Already worked out how to coax ecstatic ahhhhhhs from your arse? The Roll Play plug ups the ass-based ante by containing a steel jiggle ball that moves when you do for souped-up sensation, but it's still slim enough for relative beginners. See if you dare roll with secretly wearing it out in public…
Prostate stimulators
Why is prostate massage worth getting in a state about? Well, some men find it can lead to multiple orgasms, with or without ejaculation; climaxes achieved without ever touching the penis; and full-on, full-body peaks of pleasure. Yeah. Prostate probes are especially angled inward to target this 'P-spot' — a feat that can be awkward with fingers alone unless you possess the dexterity of Thing Addams — and Aneros is the prostate probe pro.
Product development manager Forrest Andrews advises, "Choose a toy with an insertable length of no more than 4in, or you risk missing the prostate entirely. Also consider the material it's made from: silicone provides a more comfortable but understated experience, whereas more rigid tools produce stronger, more focused sensations. The prostate doesn't respond the same way the penis does, and it can become desensitised by vigorous, continuous stimulation, so starting off with subtle silicone is a good plan."
The ergonomic (w)anchor shape of prostate tools can seem alarming to newbies, but as Topher Taylor — sexpert at men's erotic store Clonezone — says, "Remember that they're expertly designed to slide in comfortably. Once you insert past 2in, you'll find your body 'sucks' the toy inside."
Hocus poke-us: Magic wand toys
Doxy wand from Lovehoney

Wands are heavy duty power tools. They're highly versatile external-use vibrators that often plug into the mains, and are famed for producing deep, rumbling reverberations that travel further throughout the body and have the potential to conjure climaxes from people who have never previously peaked. In 2008, the Scientific World Journal published a study of 500 'chronically anorgasmic' women, 93% of whom enjoyed their first ever orgasm using a wand — and today the Doxy exists, which is 30% stronger still than the products employed in that research. Whilst Hitachi is the original wizard who invented this particular bit of kit, I find British-made Doxy products far less clinical-looking, and they're fast becoming cult items in their own right.
Doxy wands are about the size of a rounders bat, with an industrial feel that belies the fact that one of the company's founders used to run a factory casting scaffolding joints. But don't let yourself or your lover be intimidated that these aren't cutesy, 'discreet' toys. "Wands can look hulking at first glance, but they're not designed for insertion (although you can get attachments for vaginal or anal use), and the trick is not to whack them up to full speed and clamp them straight on the clitoris," says Doxy director Will Garland.
"Wands are great value because they can work for all genders and are multi-use, so don't be put off by the price either," adds Ruby Rare. "Mine helps alleviate pain when I have a migraine or menstrual cramps, and I've incorporated them into giving non-sexual massages to partners as well." Wand-erful.
About the author

Award-winning sex educator, writer and broadcaster Alix Fox is resident X-rated agony aunt on The Modern Mann podcast and co-hosts BBC Radio 1's Unexpected Fluids, an educational comedy show sharing 'real-life tales of sexual fails'. She's a script consultant on hit Netflix series Sex Education, a presenter on E4's The Sex Clinic and proud ambassador for young people's sexual wellbeing charity Brook. She was named Best Sex Expert of 2018 in the ETO Awards.