There have been many transitions and stages of 2021. Not least with my physical appearance.  Multiple hairstyles have been sported, from long lockdown locks to the ever-ready shaved head. My physique has subtly changed with activity in various fitness training methods. Experimentation with a few facial hair expressions have also been apparent, much to the dismay of those with pogonophobia.
So I've got to know the outlook of my physical appearance and its variations pretty well. But as the year draws to a close I wanted to understand a little bit more about what's on the inside. I wanted to know what makes me… me, by learning more about the life liquid that pumps through my veins. How can getting to know what's in my blood help me to be the healthiest I can be? 
A mixture of molecules and cells that keep us alive, our own organic cocktail full of hidden wonders is bloody amazing, but I wanted to test my blood to uncover any areas that needed a helpful supplement. However, as I am someone who has reacted badly to blood tests taken with needles by nurses in the clinical environment, I was keen to take a test safely and securely in a more comfortable familiar setting.  
Why did I take a blood test?
Blood tests allow you to get vital information about your own unique biomarkers. Importantly, blood tests can flag underlying health conditions, which a person may have no previous knowledge about.
For example, high cholesterol is surprisingly common and even young, fit and otherwise healthy people might have the condition without realising it. Another prevalent health condition that can only be flagged by a blood test is prediabetes, which indicates a risk of developing type 2 diabetes.
Regular health screenings are important for men to understand how or why their health is changing and if they need to take action to help their body function in a more healthy way. A blood test is a great way to get under the hood and help you to last the miles, even picking up on issues such as erectile dysfunction.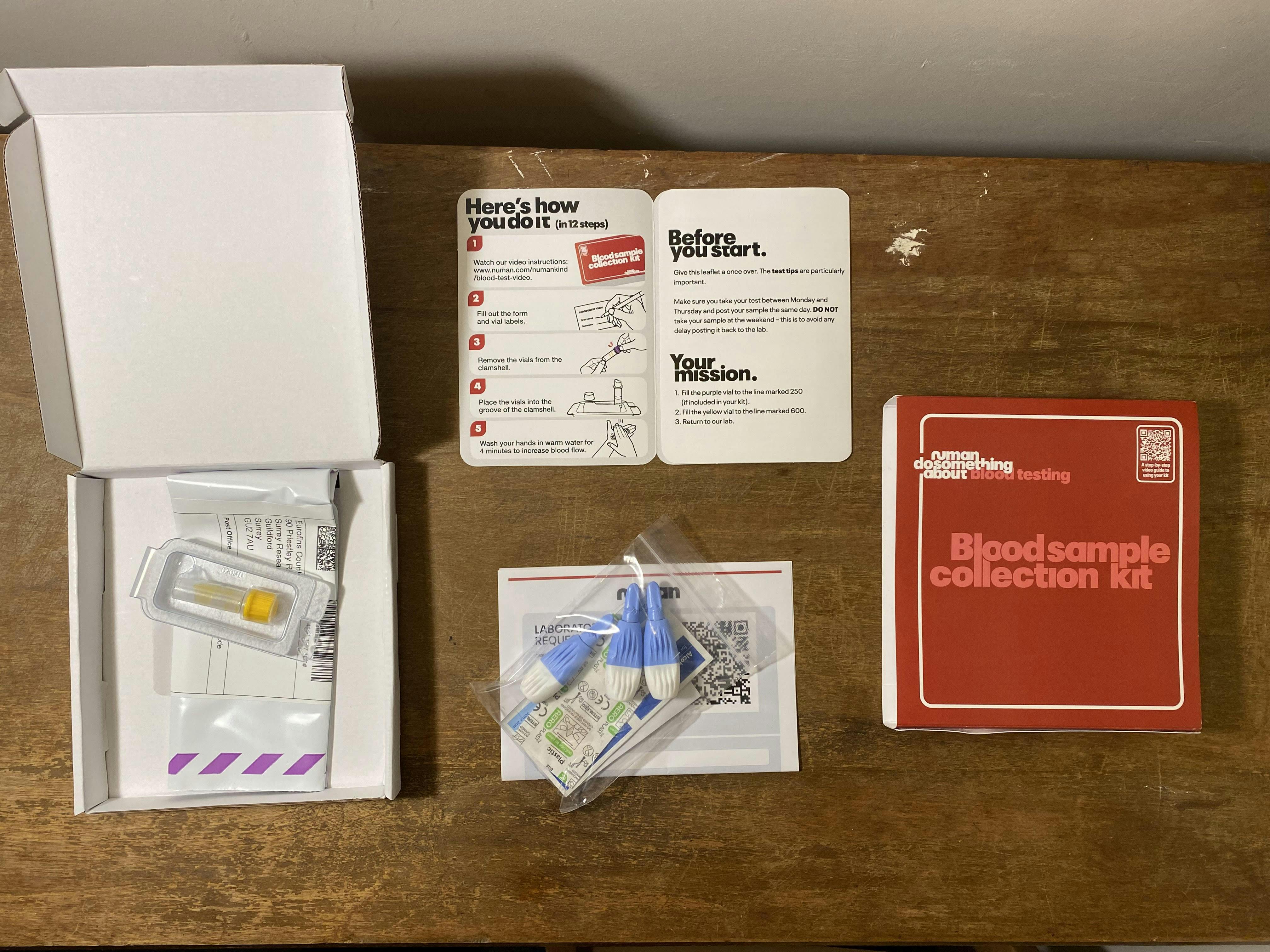 Types of blood test
Everything you need to take a safe and efficient blood test comes perfectly packaged through your letterbox once you've chosen which type of blood test you would like.
Fear Nothing Blood Test: The new Fear Nothing Blood Test is completely free if no health conditions are flagged. The test measures important biomarkers and will give you valuable insight into your vitamin levels, hormone levels, liver function, kidney function, thyroid function and heart health.
Fear Nothing Blood Test Plus: This blood test screens extra biomarkers so you can check your blood sugar levels, vitamins and iron levels. This helps you to understand your risk of diabetes and anaemia - two conditions that can be managed if caught early enough. Both blood tests come with a free review from a UK clinician who offers personalised health advice based on the outcome of your test.
How to take a blood test at home
Having no apparent health issues, I was keen to understand what my biomarkers could tell me about my health or if any undetected conditions were present. So, I jumped online and ordered myself a blood test, to complete at home. I then received an email from Dr Luke explaining how to achieve the best chance of success in the blood test. The package came within a couple of days and I set out to read the instructions on how to take a blood test at home. 
Everything you need to perform the test is included in the box, from the sterilizing wipes to the lancet that pricks your finger and the tube to collect your blood in. But if the idea of a blood test is unnerving, you may be reassured that you only need a small quantity of blood to measure a huge array of biomarkers. Because you have one mission - to fill up the vial to the yellow 600 line… and it couldn't be more simple.
The vial is firmly in the clamshell so just use a bit of force to push it out with the thumb, being careful not to break it. Don't use scissors, keys or any other sharp object to prise it out, make sure you are careful with it.
If you are really struggling, or need some visual encouragement on how to do the process, you can also scan the QR code for a video to show you what to do.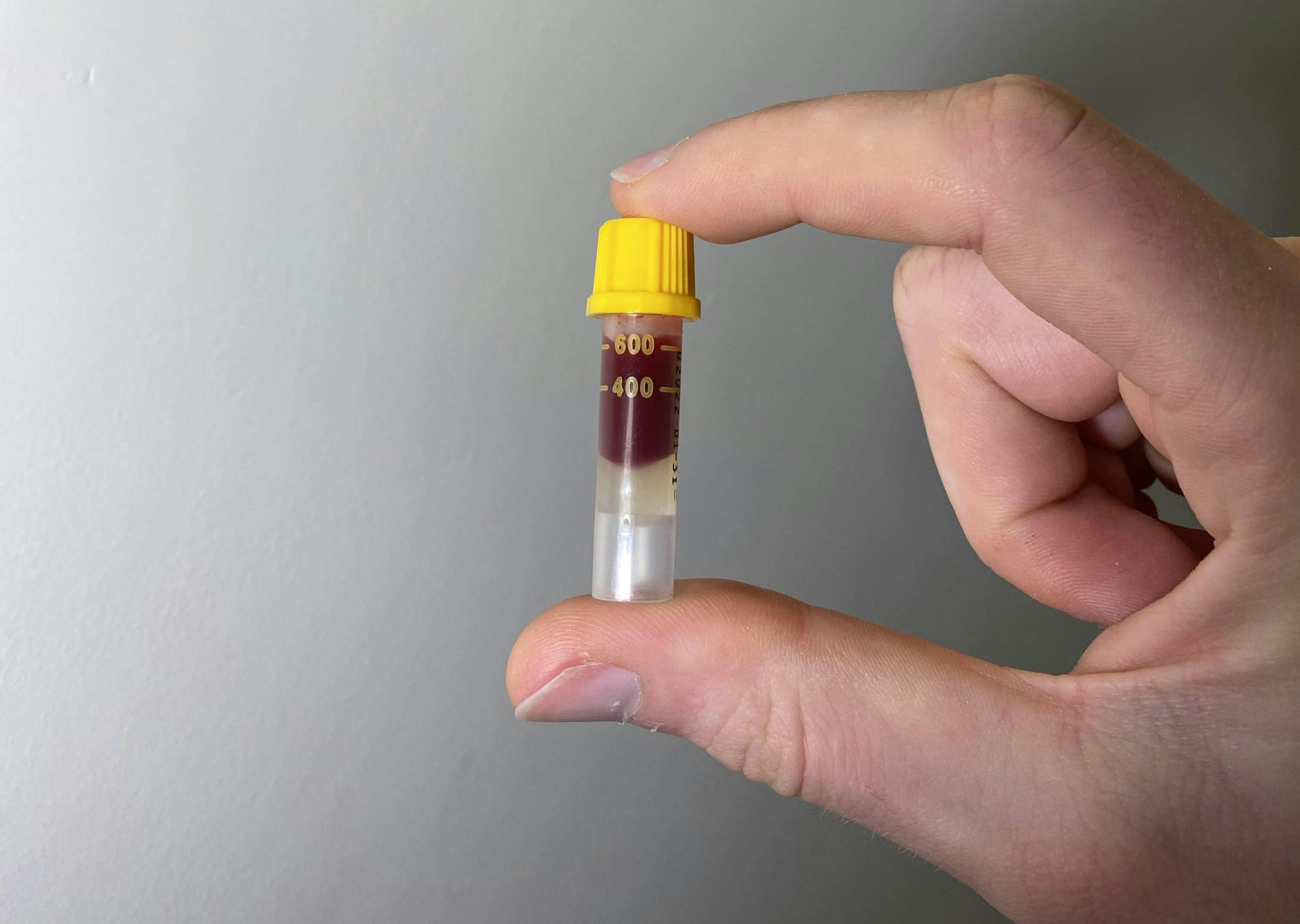 How do you get blood test results
Once you place the vial full of your blood back, you just have to label it with the supplied label, place it into the clamshell back inside the box. Secure your precious cargo in the prepaid postal bag and pop it into the nearest postbox. Be sure to post the test back as close to the time you draw blood, this will maximise the success of the test. Basically don't leave it inside your work bag for a day or two, post it straight away to get it to the lab pronto!
Around 48 hours after I pricked my finger, I received an email to tell me my results were ready - I didn't think it would be that quick! After logging onto my account on the Numan site I was able to view my test results, which are securely available on the site and can even be downloaded as a pdf. 
The results showed me that my blood had been tested for over 20 different biomarkers including zinc, serum folate and sodium. The individual score for each marker appeared next to the average range for respective levels, with any high or low markers being clearly flagged in red. 
Less than 24 hours after I received my results I was emailed by a clinician who went into further detail about a couple of flagged levels in my results. This email was helpful to suggest how these levels could fall into a healthier range and gave advice in an understandable and informative way. 
The numan take
Doing a blood test at home is easy, quick and super informative. Following the instructions in both the blood collection kit and corresponding emails allows you to get an informed view of critical biomarkers in your blood. The blood test allowed me to gain new insight into my health and provided me with helpful health advice about conditions I wasn't aware of.
Related articles:
Related products:
---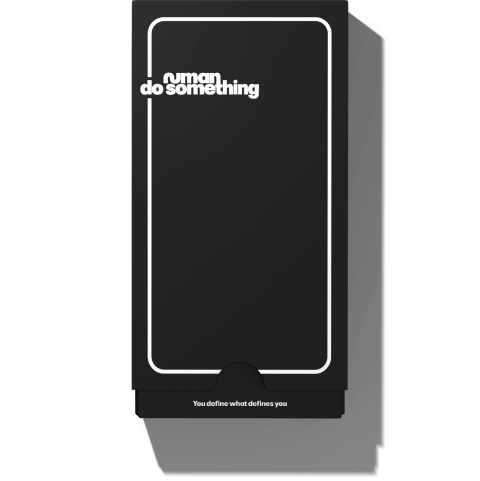 Fear Nothing Blood Test
Know what your blood knows.
---