fear nothing blood test
Claim a FULL REFUND
If all your results fall within the normal range*
From £98 otherwise, billed quarterly, cancel anytime
Personalised review by a UK clinician

Testing for up to 21 biomarkers

Complete at home, results in 3-5 days

Secure, encrypted, and accurate testing
Confront
concerns
Face your health fearlessly. Be proactive. Tackle concerns before they become a problem.
Tiredness
Weight changes
Low mood
Insomnia
Hormone imbalances
Vitamin deficiency
High cholesterol
Erectile dysfunction
High blood sugar
Check
important biomarkers
Get clarity. Measure up to 21 of the most important health indicators to get a snapshot of what's happening inside your body.
Creatinine
Urea
Sodium
eGFR
Free T4
TSH
Total bilirubin
GGT
ALP
Albumin
Cholesterol
Vitamin D
LDL
HDL
Ferritin
Triglycerides
Vitamin B12
Testosterone
HbA1c
ALT
Folate
Control
your health
Use your results to help you manage your health confidently and correctly. No faff. No fluff. No fear.
Heart health
Nutrition
Weight management
Diabetes
Thyroid health
Anaemia
Kidney health
Liver health
Claim a FULL REFUND
If all your results fall within the normal range*
• *Claim your money back on your first blood test, within 90 days of purchasing a quarterly blood test subscription, if all your results are within the normal range. Why? Because it takes guts to explore your health. And courage should be rewarded. View full terms.

• Whilst we do everything we can to ensure accuracy of results false positive results can occur. It is important to know that having a blood result outside of the normal range does not always indicate a medical problem.
---
Trusted healthcare. Trusted experts.
Your health matters. That's why we're regulated by the Care Quality Commission to ensure we always deliver safe, effective, and high-quality healthcare.
Our fully qualified team of medical experts put you at the heart of our healthcare - giving you the support you deserve and the treatments you need.

Prof Sam Shah
Chief Medical Strategy Officer

Dr Luke Pratsides
Lead GP

Ms Danielle Brightman
Clinical Lead

Ms Rupal Joshi
Clinical Lead
How the Fear Nothing Blood Test works
Collect a sample
Collect a blood sample using the equipment provided in your blood test kit. The kit comes with clear and simple instructions to make collecting a sample as easy as possible.
Send it to the lab
Post your sample to our partner laboratory for free (a prepaid envelope is included in your kit). Our partner lab is fully accredited and approved by UKAS to ensure the most reliable results.
Receive your results
Receive your blood test results privately and securely via your online results dashboard in your Numan account. You should receive your results 3-5 working days after they reach the lab.
Reviews from the fearless
"From the start Numan were professional, the service I used was efficient and delivery prompt, all the advice was clear and easy to understand. Most importantly professional medical advice was available and reassuring."
The big questions
What does the Fear Nothing Blood Test show?
The Fear Nothing Blood Test reveals what the eyes can't see. It gives you a deeper understanding of your health by showing you the levels of certain nutrients and hormones in your blood, as well as an overview of how well your organs are functioning.
What's the benefit of taking a home blood test?
Taking a home blood test allows you to track and manage your health from home. No waiting rooms. No waiting lists. No needles.

They're easy to use and you can use your results to make healthy, informed lifestyle choices that benefit you in the long run.

Our Fear Nothing Blood Test also includes the option to have a phone consultation with a Numan GP to discuss your results so you can receive greater support and guidance.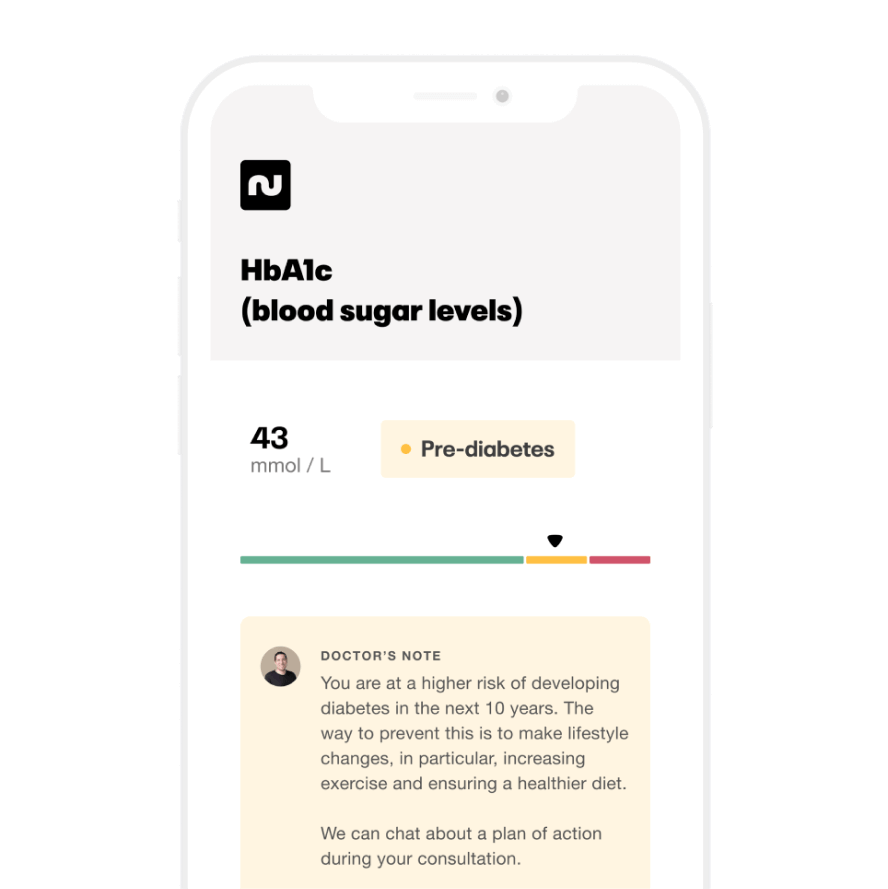 Clear and actionable results
We cut the jargon and send your blood test results to you in a format that's easy to understand.

A clinician will also personally review your results and tell you what they mean so you can take the right steps to improve your health.
Upgrade your test. Maximise your insights.
Get the most complete overview of your health by upgrading to Fear Nothing Plus: an advanced home blood test that gives you more insights into your health than the standard Fear Nothing Blood Test.
Ready? Here's what you'll get with the Numan plan.
We're in this together. Discover how we make the most out of your subscription.
Effective testing
You want testing that works. If it doesn't, let us know - we'll find a solution that works for you.
Free ongoing clinical support
Unlimited access to free personalised advice from our clinicians via email or phone.
Membership benefits
Lifetime discounts on Numan treatments and supplements.
Quarterly subscription
Relax and let us take care of your subscription. We'll help get you the results you need every 3 months.
Pause or cancel any time
Take command. Manage your subscription so you're always in control.
Free discreet delivery
Your subscription stays between us. We deliver discreet packages straight to your door.
How Numan works
It's healthcare without the hassle.
Free online consultation
Once complete, your consultation will be reviewed by our clinicians. Most prescriptions are approved the same day. Free, discreet, speedy delivery
If your treatment is approved, it'll be dispatched to you discreetly within 24 hours.
Continuous care
Have any questions or want to change your medication? Speak to our clinicians and they'll be able to help.
Cancel anytime
If you're not happy with the service, or simply don't need treatment anymore, you can cancel anytime.
Fear Nothing Blood Test: facts you need to know
Straightforward answers to frequently asked questions.