Sildenafil citrate is used for erectile dysfunction in men, and also for pulmonary hypertension, a type of high blood pressure. In this article we'll explain what sildenafil does, how you're supposed to take it for erectile dysfunction, and what you should expect when taking it.
What is erectile dysfunction?
Erectile dysfunction (ED) is defined as the persistent inability to get an erection, or to keep it long enough to have sex. It's a symptom, with a variety of possible causes.
What is sildenafil citrate?
Sildenafil is a PDE-5 inhibitor. PDE-5 is the enzyme that causes your erection to subside after ejaculation. Sildenafil stops the action of that enzyme. It maximizes blood flow through the arteries into your penis, allowing you to maintain your erection.
Where did sildenafil come from?
Sildenafil was developed by the pharmaceutical giant Pfizer in the UK, as a possible way of treating angina (chest pain caused by ischaemic heart disease) and high blood pressure. When volunteers in the clinical trials began reporting substantial erections whilst on the drug, a decision was taken by the researchers to reposition the drug for use in the treatment of erectile dysfunction. And the rest, as they say, is history!
Can I take sildenafil?
Sildenafil can affect how some other medications act, and it can worsen the course of some medical disorders. Check with your doctor before taking sildenafil, if:
You're taking medications known as nitrates
You're taking alkyl nitrites (also known as "poppers")
You're taking medications known as protease inhibitors
You're taking medications known as alpha-blockers
You're already taking sildenafil or any other PDE5 inhibitor in another form
You have any heart, liver or kidney problems
You have low blood pressure
You have any eye disease
You have any blood disease
You have a penile deformity
You have a stomach ulcer
You are taking medications for pulmonary arterial hypertension
How do I take sildenafil?
Taking sildenafil is simple. Take your tablet about an hour before you plan to have sex. Swallow it whole with a glass of water.
The starting dose is 50 mg, once a day. You should not take more than that without medical advice.
You can take sildenafil with food, but it may work quicker if your stomach is empty, simply because it will absorb more promptly.
Alcohol works against erections (we've written about it in detail here), so to maximise the benefit of sildenafil, it's best to give the beer a miss.
---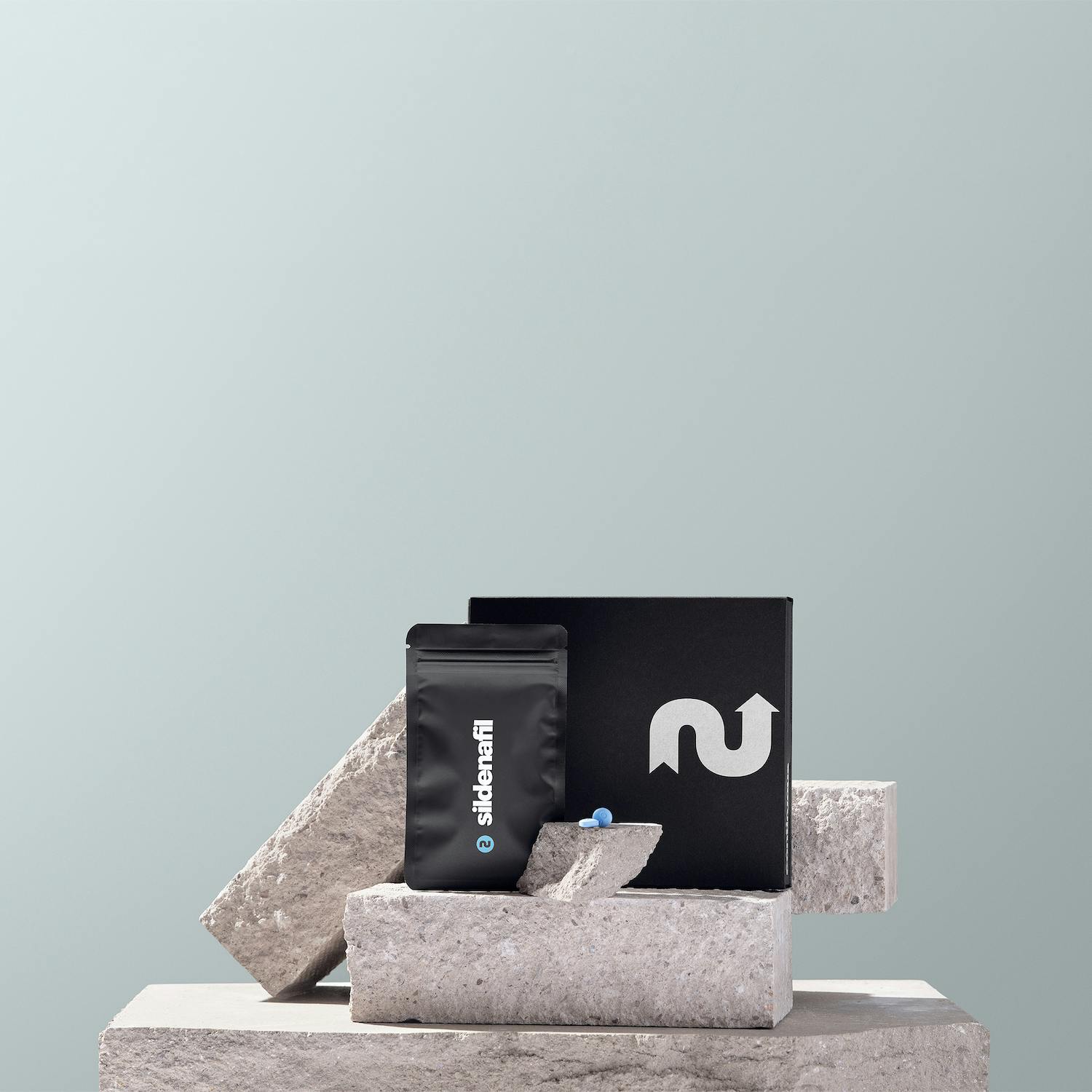 Sildenafil
Do something about erectile dysfunction.
---
What can you expect after you take sildenafil?
You will not find yourself with a spontaneous erection after taking sildenafil! You'll still need to have sexual stimulation or feel sexually aroused to get an erection. If nothing happens, or if not enough happens, you should inform your doctor.
The drug stays in your system for about four hours. That doesn't mean you should have an erection for four hours, it just means that you have that four hour window to have sex. If you do have a prolonged and/or painful erection, you should seek urgent medical attention.
There are side effects you may experience. Most of them are mild, and some are
rarer than others.
You should stop taking sildenafil if …
You experience any sudden decrease or loss of vision
you experience any allergic reaction, such as wheeze, breathing difficulties, or swelling around the eyes or airways
you experience severe dizziness
you experience chest pains. (If you are on nitrate medications for chest pain, do not take them.)
Severe side effects are rare, but they do happen. If you do experience any of the above severe side effects, you should seek urgent medical attention.
The numan take
Taken correctly, sildenafil citrate is a safe and effective way to treat erectile dysfunction. If you want to find out more about it, there's plenty of information over at Numankind, or if you'd like to know whether sildenafil is suitable for you, we can start a consultation with you.