Sex writer, podcaster, and Radio 1 presenter, Alix Fox gives you the lowdown on the latest things people are doing with their down-belows. From mindful masturbation to saucy subscription boxes, the world of sex is evolving for the better.
Trends in passion thankfully don't move at the same rate as they do for fashion. When it comes to clothing, what's considered 'in' can change on a whim: one minute you're in sturdy Doc Martens; the next you're seriously considering a pair of metallic silver brogues. But while the pace of change for sex may be slower that it is for shoes, you'd really be putting your foot in it if you thought things were standing still.
The act of intercourse itself may be as old as humankind, but there's always something new when it comes to intimacy. Sex - how we talk about it, how we think about it, and what we do when we do it - is constantly and often subtly evolving. We asked Alix Fox, expert sex writer and all round good (unfertilised) egg, to take us through some of the biggest changes and trends right now...
Sex menus are the order of the day
The idea of writing a sex menu – a list of sensual acts and scenarios divided into those you rate, hate or are curious about – seems ostensibly simple, but actively compiling an inventory of your desires is a good way to focus on what you want and why, and can be a great starting point for better sexual communication and exploration between lovers.
It's something frequently recommended by psychosexual therapists like Kate Moyle from BBC3's latest couples' counselling series, Sex On The Couch, and is growing in popularity as people gradually twig that it's worth taking the time to evaluate their emotions and ambitions in the context of sex and relationships. In much the same way that they would for their careers or fitness routines.
Sometimes making sex work better takes work, and getting your thoughts on paper is a decent place to start. Find free sex menu templates to guide you here, or download the 'Make Your Own Sex Manual' and 'Make Your Own Relationship User Guide' booklets from kickass sex educators Meg-John and Justin for £2.50 each. Fappy Meals all round.

If there's a 'dish' on your menu that you need to learn more about before you feel confident trying it out, check out O.School: a free website full of expert blogs and videos, on subjects from 'Masturbating the Prostate' to 'An Introduction To Gags' (which I clearly don't need, because my jokes are boss).

Masturbation is becoming more mindful
In recent research by pleasure product company Tenga (check out their masturbation cups for what is essentially an instant A+ BJ in a can), 64% of Brits stated that they used masturbation as a form of self-care, and 52% said it improved their wellbeing, by performing helpful roles such as helping them unwind, improving their connection to their own bodies and self-image (if your body makes you feel good, you're more likely to feel good about it), and assisting with peaceful sleep. British respondents ranked solo sex as just below having a kip but above listening to music or taking a bubble bath as most effective in relieving stress.
Following in the footsteps of this idea that treating yourself to a Tommy Tank can make the head on your shoulders feel good, as well as the one in your pants, the Ferly app launches in June: it combines guided sensual meditations with erotic audio stories and education to help users improve their own sexual self-care practices. It's aimed at women, but fellas can access mindful sex meditation resources on Headspace. It's OM meets OMG.
Add zap to your fap with electrostimulation
Electrostimulation or 'electrosex' toys deliver titillation by sending electrical impulses from a power source via, say, the nipples, the vagina or the penis. WHICH SOUNDS FREAKIN' TERRIFYING. Who wants to electrocute their frankfurter like Frankenstein's monster?!
It's actually less extreme than you'd imagine, explains Lulu Shwartzer of e-stim gadgeteers MyStim: "All information about sensation and touch is transmitted our brains by electricity moving along nerve pathways, so e-stim toys simply speak the body's language fluently, without the need for translation. And just like traditional vibrators, e-stim toys have different levels of intensity: you can start with a mild tingling, then build up the intensity. It's not scary at all, as this video shows."
Yep, I didn't believe her either, and still thought e-stim sounded like the equivalent of trying to fish out a stuck crumpet from the toaster using your todger – until I held an e-stim rabbit at an adult trade show. The feeling was gentle…and intriguing. And whilst electrotoys used to look intimidatingly hardcore, new one-piece male masturbators and dildos don't need separate power packs, making them more accessible for beginners. Shockingly exciting.
Microdating: romantic moments both great and small
We all know regular date nights are important to keep relationships healthy, but a survey by insurance company Legal & General showed that many hectic couples struggle to find the time for full-on wining & dining, especially those with kiddos.
Just over 40% of parents say cost is a problem, as they've got to pay for babysitting as well as entertainment, and 46% report being too knackered to fit in a lot of long evenings out. The solution? Microdates: short 'n' sweet mini moments of fun, flirtation and connection that help keep things feeling special even when you're short on time and cash.
Some little wonders to try in a trice:
Catch the sunset as a pair. Hold hands for ten minutes and take it in, wherever you are. Try not to think about the days you'd love to throw your children/partner right into the centre of that hot ball of flame.
Buy some cheap art supplies – or pinch the kids' paints – and draw together. It doesn't matter if the final results are more 'mess' than 'masterpiece'; it's about expressing yourselves, relaxing, and doing something out of the ordinary.
Eat by candlelight. You don't have to make a swish meal; just set a special mood. Healthy fast food fellas LEON quizzed 1000 UK adults, and found that 90% would be A-OK with grabbing a simple burger on a date: posh nosh is less important than great conversation and affection.
Hop in the car one night, put your favourite tunes on the stereo – sing along if you like – and drive somewhere close (great views a bonus) to make out like teenagers. Babies often fall asleep in car seats, so this date can do double duty by helping them nod off… no childminder required.

The full bush is en vogue: plant extracts in sexual health products
You may not realise it, but most latex condoms aren't vegan (and not just because they're used to wrap ya meat). The milk protein casein is commonly added as a stabiliser to give the rubber an even texture. Female-founded condom company HANX, along with Glyde and Fair Squared, use thistle extract instead (thankfully de-prickled before it sheaths your pickle).

Now that UK laws on cannabis-based health products have been relaxed, CBD – a cannabis derivative that doesn't contain THC, the bit that gets you high - is going to be as omnipresent in sexy stuff as lean protein is in The Rock's endless Tupperware lunches. Reputed to help relaxation and arousal, dip your toe into the green scene with Lovehoney's just-launched CBD massage oil and Botanic Lab's aphrodisiac drinks.
Party hard: a new wave of sex events are emerging nationwide
Sex parties have moved a lonnnggg way on from the old 'car keys in a bowl' stereotypes of yore: nowadays, strangers are getting together to learn, laugh and luxuriate, as well as to get lusty. House of Togetherness in London's Covent Garden staging intimate workshops and experiences ranging from mass spooning sessions, to silent dating nights, to 'rage clubs', where you can learn to release anger in constructive ways so it doesn't negatively affect your relationships.

LAM Manchester finally brings the capital's long-established alternative market community oop north: not only can you get your mitts on custom-made fetish gear from spanking paddles to silicone dildos to spandex catsuits, but friendly stallholders and demonstrators will show you how to use it, then you can get stuck in at the afterparty. As if Manchester wasn't already wet enough.

Sweetening the pill: contraception equality
There's been building buzz about Vasalgel: a long-acting reversible male contraceptive that promises to be the greatest pairing of gel and spunk since There's Something About Mary. The syrupy polymer is injected into the vas deferens - the tube that sperm travel through from the testicles - where it acts to block swimmers from mixing with the other components of semen, making ejaculate infertile: it's much like a vasectomy, except it can be easily reversed by melting the gel using a second injection or microwave heat. Frustratingly, although trials have largely gone well since it was first conceptualised in the 70s, it's still a way off coming to market, but worth keeping your eye on the balls.

In the meantime, Decolonising Contraception are working to make birth control fairer in other ways. They're a collective who focus on exploring and challenging the cultural influences that can make it harder for people of colour to access sexual and reproductive health services. They're currently crowdfunding a festival, and producing a series of blogs detailing how POCs have historically been terribly treated during medical trials for sexual health products, and the impacts this has now: about as much fun to read as having your bollocks punctured then microwaved like shit baked potatoes, but equally important and game-changing.

Think inside the box with saucy subscription packages
The subscription box trend is still going strong: from ready-made-everything to retro video games direct to your door. The next logical — and welcome step— your sex life.

The Sway have created boxes to boost your boom-boom in the bedroom. For £40 every other month, they discreetly deliver a stylish parcel of inspiring sex toys and sensual products, along with clever cue cards designed to help naturally start the kinds of honest conversations about fantasies and desires that many couples would benefit from, but struggle to know how to begin. The company was founded by two women who adored their long-term partners but felt sex had gotten samey, so started "a mission to go beyond missionary".

I've been sent a few sexscription boxes over the years, and most of them were crud: full of boring battery-operated basics and low-grade stag-do novelties that some Trotter type had picked up for pennies after a Blackpool factory fire, bulked out with cheap waxy chocolates that tasted like sucking the index finger of Madame Tussauds' model of Benedict Cumberbatch. THIS IS NOT THAT. Sway boxes are all luxurious thriller, no tacky filler: think designer vibrators and opulent massage candles. Lovehoney have just launched a box too, that's decent value if not so modern and (s)wanky.

We're talking more openly & honestly about the gnarly tough stuff that affects sex
Unless you're getting your leg over at the Eden Project, sex doesn't exist in a bubble; it's influenced by multiple emotional and physical aspects of our lives, not all of them easy or pretty. In the past it's been unhelpfully taboo to talk about things like sexual challenges post-pregnancy; erectile dysfunction; bowel or urinary issues; or the menopause – but thankfully now, those taboos are being smashed like watermelons during a cinematic car chase through a village market.

Numan for one is on a mission to drive more positive and open conversations around erectile issues. "Around 66% of men in the UK have experienced erectile dysfunction at some point," says Abbie Moujaes on the Numan's team, "but only 42% of those men have taken steps to treat it. But we are seeing changes, taboos are being broken down and anything we can do to help with that we will."

Melissa Kramer of LiveUTIFree.com – a resource for people suffering from recurrent urinary tract infections – says she's noticed a large uptick in the number of men reaching out lately, both for themselves and their partners. All together now: "urethra jolly good fellow, urethra jolly good fellow…"

Seniorgasmic: sex amongst older people is becoming more celebrated & less stigmatised
Legendary envelope-pushing ethical indie pornographer Erika Lust has just released Soul Sex with John & Annie, a sensitively, sensually shot – and hella hot - film starring a real life married couple in their seventies. "In the adult industry senior bodies are largely missing – and female performers can play 'MILF' characters when they're just 20 years old!" Lust tells me. "Porn has never been known for its delicate treatment of marginalised groups, and that includes older performers. When scenes are shot with 'hot grannies' they don't exactly set out to break down ageism so much as to exploit it, and these films are obviously not a true representation of older sex." Soul Sex is completely different: respectful, relatable and real.

Groundbreaking sex writer and 'silver sex' specialist Joan Price – author of Naked at Our Age: Talking Out Loud about Senior Sex and Sex After Grief: Navigating Your Sexuality After Loss Of Your Beloved (out in August) – is guesting on Lust's blog, too.

ED and vaginal moisturising medications, improved general health and a realisation that fabulous sex doesn't always have to rely on penetration means that more people are enjoying being intimate later in their lives. A recent study by Lumen, a dating app for the over 50s, found the majority of folks post 50 are having the most adventurous sex of their lives, with 62% saying they have become more daring in the bedroom.

Bravo to that – but do remember that even if pregnancy is no longer a risk, STIs don't care whether there were so many candles on your last birthday cake that Samuel Pepys wrote a diary entry about it, so the usual rules apply about using condoms with new partners. In fact, there was a 9% increase in sexually transmitted infections in people aged 45+ between 2012-16 and rates of gonorrhea are rising at nearly double the national average in over 65s…leading to the coining of the phrase 'gran-orrhoea'.
About the author:
Award-winning sex educator, writer and broadcaster Alix Fox is resident X-rated agony aunt on The Modern Mann podcast, and co-hosts BBC Radio 1's Unexpected Fluids, an educational comedy show sharing "real-life tales of sexual fails". She's a script consultant on hit Netflix series Sex Education; a presenter on E4's The Sex Clinic; and proud ambassador for young people's sexual wellbeing charity, Brook. She was named Best Sex Expert of 2018 in the ETO Awards.
Featured image Alix Fox by Joe Plimmer (courtesy of the author)
---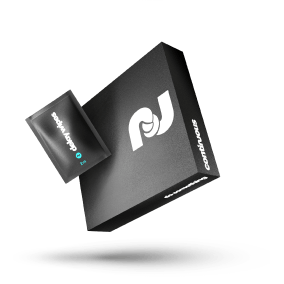 PE Solutions.
Enhance your endurance and enjoy sex again.
---