It brings life to the earth, powers homes, and kills vampires. Yes, sunlight can do many remarkable things and we need it to pour its loving rays on our planet every day to survive. 
Sunlight is tremendously important for our health, too. One of the main reasons why is because it triggers vitamin D production when UV rays from the sun hit your skin. 
Vitamin D has a staggering variety of health benefits. It supports your muscle and bone health, can protect against cancer cell growth, and may even be able to help prevent COVID-19. 
Unfortunately, people who live in places like the UK - or any other place that doesn't receive much consistent sunlight - are at risk of vitamin D deficiency. 
If you live in the UK or in a country that doesn't get regular sunlight, it's highly recommended that you take a blood test to check your vitamin D levels. Low vitamin D levels can cause a variety of issues, including fatigue (tiredness) and a depressed mood. 
To fully understand why vitamin D is so important for your health, let's take a look at what it is and what it does in your body. 
What is vitamin D?
Vitamin D is a nutrient your body mostly gets via sunlight, but it can also be obtained through your diet and supplements. 
When sunlight hits your skin, your liver and kidneys team up to create a version of vitamin D that your body can use to stay healthy. This version, known as calcitriol, acts on certain parts of the body (the intestines, kidneys, and bones) to keep your calcium and phosphate levels in balance.  
What does vitamin D do?
Vitamin D is one of the most vital nutrients your body needs to work properly. It helps to keep your bones and teeth healthy, and also helps your muscles to function normally. 
There's evidence to suggest that vitamin D helps to protect against a range of diseases and conditions, including: 
High blood pressure.
Cancer.
Type1 and type 2 diabetes. 
Multiple Sclerosis.
Flu and the common cold. 
Why should I check my vitamin D levels?
Vitamin D plays an important role in keeping you healthy and it helps to prevent many different diseases and conditions. Unfortunately, 1 in 6 adults in the UK have low vitamin D, which puts them at greater risk of poor health. 
It can be difficult to tell if you have low vitamin D because low vitamin d symptoms can be hard to detect. Therefore, it's essential that you measure your vitamin D levels with a blood test to check if they're healthy. 
A home blood test like the Fear Nothing Blood Test can measure your vitamin D levels to tell you if they're normal. It'll also check a broad range of other health indicators - such as your cholesterol and testosterone levels - to see how healthy you are overall. 
It's impossible to know what your vitamin D levels are without taking a blood test, so it's advised that you book a blood test online to order a home blood test kit. 
---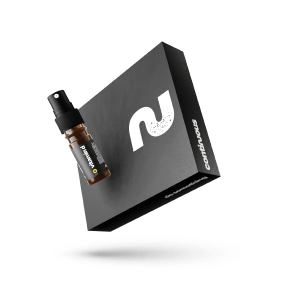 Vitamin D Boost
Supercharge your immune system, bone health, and muscle function.
---
Who's most at risk of low vitamin D?
As previously mentioned, you're at a higher risk of vitamin D deficiency (low vitamin D) if you live in a country that doesn't receive consistent sunlight throughout the year. 
You are also more likely to have low vitamin D if you:
Spend a lot of time indoors.
Keep most of your skin covered by clothes when outdoors.
Have darker skin (it takes people with darker skin longer to synthesise vitamin D). 
If any of the above apply to you, then the Department of Health and Social Care recommends that you take a daily supplement containing 10 micrograms of vitamin D throughout the year (this advice is applicable to anyone above the age of 4). 
What are the symptoms of vitamin D deficiency?
Vitamin D deficiency symptoms include:
Tiredness (fatigue).
Bone pain.
Muscle weakness, muscle aches, or muscle cramps.
Depression (and other mood changes).
As most vitamin D deficiency symptoms are quite subtle, it's easy to dismiss them and mistakenly attribute them to other causes. That's why it's important to check your vitamin D levels from time to time with a blood test to make sure that everything is in order - especially if you're experiencing any vitamin D deficiency symptoms. 
What are the best vitamin D sources?
The best source of vitamin D is natural sunlight. Up to 90% of your vitamin D is made by the action of sunlight on your skin when UV rays make contact with it. 
Some of the best dietary vitamin D sources include fatty fish (e.g. trout, salmon, tuna, and mackerel) and fish oils like cod liver oil. Beef liver, egg yolks, and cheese also contain small amounts of vitamin D. 
If you live in the UK or another country that doesn't get much sunlight, you may want to consider taking a vitamin D supplement such as Vitamin D Boost. It's a vitamin D spray that contains enough vitamin D to meet your recommended daily intake. It's also absorbed faster than normal vitamin D tablets and contains vitamin D3 (which is more effective at boosting vitamin D levels than vitamin D2). 
Taking a vitamin D supplement is especially recommended for those who are more likely to have low vitamin D levels, such as people who spend most of their time indoors and people with darker skin. 
What's the difference between vitamin D2 and vitamin D3?
If you've ever shopped around for vitamin D supplements, you may have seen that vitamin D comes in two forms: vitamin D2 and vitamin D3. Both types can increase your vitamin D levels, but the main difference between the two is: 
Vitamin D2 comes from non-animal sources (e.g. plants and fungi). 
Vitamin D3 comes from animals.  
Vitamin D2 is often referred to as "vegan vitamin D" as it does not come from animals, making it an ideal choice for vegans and vegetarians alike. However, studies have shown that vitamin D3 appears to raise vitamin D levels more effectively than vitamin D2. 
Most vitamin D supplements available today contain enough vitamin D to fulfil your daily needs, regardless of the type of vitamin D they use. The type of vitamin D you take ultimately depends on your dietary preferences and whether you'd prefer to take vitamin D tablets or a vitamin D spray. 
The numan take
If you live in the UK or another country that fails to receive consistent sunlight, you should check your vitamin D levels with a blood test to make sure they're normal. 
Certain people - such as those who spend a lot of time indoors and people with darker skin - are more at risk of vitamin D deficiency. These people in particular should take a vitamin D blood test as well as a vitamin D supplement the whole year round. 
You can test your vitamin D levels at home with a Fear Nothing Blood Test. Simply order one online, take the test at home, and receive your results in just a few days. Each Fear Nothing Blood Test comes with a free, written review of your results that's personalised to you so that you can understand them clearly. Once you're aware of your vitamin D levels, you can make informed decisions on how to keep them healthy, such as by getting enough sunlight or taking Vitamin D Boost.