Sometimes, the only thing worse than being too late is being too early. When it comes to sex, you want to be ready on your own terms. 
Let's take a look at our speediest solution: Delay Wipes.
What are Delay Wipes?
Delay Wipes are an immediate fix to premature ejaculation. They work in a matter of seconds, so you don't need to prepare in advance. They're ready when you're ready. They contain Laureth-9, an active ingredient which acts as a local anaesthetic to temporarily numb skin.
Rub the small wipes (gently) along your penis to reduce sensitivity and enjoy longer-lasting lovemaking. The effects should last between 20-30 minutes, depending on how many you use and how sensitive the area is.
Do they affect pleasure?
You might be afraid that the numbing effect will kill any pleasure. But this isn't the case. The effects are subtle, giving you control over when you ejaculate. They can also be used for anal sex and masturbation, so could have game-changing effects on your sex life. 
However, we don't recommend them for oral sex. Your partner might feel like they've had a bad trip to the dentist.
Are there any side effects?
As with most treatments, use Delay Wipes in moderation. Use 1 wipe to begin with then up the dose if needed. 
Overuse could cause excessive numbness or skin irritation (such as a burning sensation) could occur. To test for a reaction, apply a small amount of the wipe to your forearm before using it on a regular basis. It's also a good idea to wait five minutes for your penis to dry before having sex to avoid any potential irritation.
---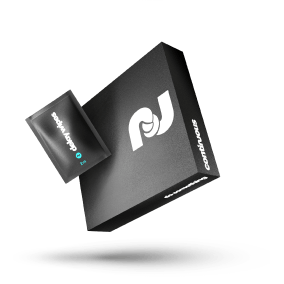 PE Solutions.
Enhance your endurance and enjoy sex again.
---
How do Delay Wipes compare to other Numan products?
There are a few treatments to help with premature ejaculation, along with exercises or natural remedies. Priligy and Paroxetine are tablets, whilst there's also a Delay Spray. 
Let's take a look:
Delay Wipes: A mild anaesthetic wipe containing Laureth-9. It takes effect in 10 seconds and lasts up to 30 minutes. 
Delay Spray: A mild anaesthetic spray containing lidocaine. It takes effect in 5-10 minutes and lasts up to 1-3 hours.
Paroxetine: A tablet which increases serotonin - a neurotransmitter that plays a key role in the ejaculatory response. It takes 3-4 hours to work. 
Priligy: A clinically proven tablet to give you more control over when you ejaculate. It takes 1-3 hours to work and lasts up to 6 hours.
There are clear advantages to each. You might prefer a subtle approach with pills like Paroxetine or Priligy. But Delay Wipes or Delay Spray are great if you're looking to enjoy spontaneous sex. After 10 seconds of applying the wipe, you'll be raring to go. 
They're also discreet. You can carry them in your wallet, ready to be brought into play when the moment arrives. 
Can they be taken long-term?
They can be used for as long as you're looking to regain confidence in the bedroom. 
The causes of premature ejaculation are often psychological. Issues such as anxiety, depression, and low self-confidence could be a factor. When it stops being an issue, you might not even need them. After a while, you could try alternating having sex with and without the wipes. 
Like many treatments, talking to a clinician can help find the right approach for you.
The numan take
Be the master of your body. Delay Wipes are a fast, discreet, and effective treatment to help you keep your finger on the trigger. Ready to fire when you're ready.