If you feel like you don't last long enough in bed, rest assured, you're not the only one. Although there's no specific amount of time in which sex should last, there's a common misconception that the act should go on for hours. In actual fact, a large study found that the average time taken from penetration to ejaculation was 5.4 minutes. 
So, although lasting just a few minutes isn't anything to worry about, if you're consistently ejaculating much quicker than desired, then it's worth exploring treatment options for premature ejaculation.
Good news. There are plenty of easy and effective treatments that will help you last longer in bed. We compiled a list of our top picks...
1. Delay spray
A few squirts of Delay Spray on the shaft of your penis will reduce your sensitivity without diminishing pleasure. The active ingredient is lidocaine and it works as a mild local anaesthetic. It only takes a few minutes to take effect so you can make more magic in the bedroom.
2. Kegel exercises
If you want to try a more natural treatment, there's a growing body of evidence to indicate that regular Kegel exercises could improve your ability to withhold ejaculation. This exercise will train the muscles around your penis and when trained regularly, you'll have more control over when you ejaculate.
3. Condoms
You might think condoms are a nuisance, but protecting you from STIs isn't the only benefit. As well as being an easy and accessible option, condoms reduce sensitivity, allowing you to last longer. By no means do condoms prevent pleasure so make sure you wrap it up regardless of the length of time set aside for some frolicking. 
4. Priligy tablet 
If you feel spray is a bit of a mood-killer, another medical option is taking a Priligy tablet. By taking one tablet 1-2 hours before sex, the active ingredient, dapoxetine, will work to increase the activity of serotonin in the nervous system. This affects the transmission of the nerve messages which activate ejaculation, giving you greater control over when you ejaculate.
5. Viagra
It's the famous erectile dysfunction treatment, but can it make you last longer in bed too? Studies have suggested that Viagra, or sildenafil can indeed prolong the time taken from penetration to ejaculation. Two birds, one stone.
6. Delay wipes
Delay wipes are another easy-to-use treatment that improves premature ejaculation. They take effect almost immediately and will slightly reduce the sensitivity of your penis, allowing you to last longer. You can easily purchase delay wipes over the counter.
7. Pause-squeeze technique
If you want to further explore natural methods, the pause-squeeze technique works for some. Just before ejaculation, stop until the urge subsides. You may also find it useful to pinch the tip of your penis when you do this.
The best way to find a solution that works for you is by exploring several different methods. It's advisable to speak openly with your partner about your preferred solution and always make sure you've read the instructions and side effects before taking any medication.
Related articles:
---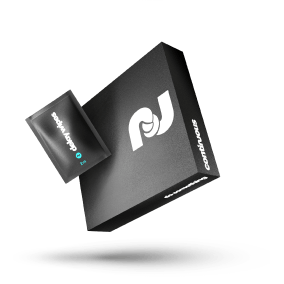 Delay Wipes
Enhance your endurance and enjoy sex again.
---