Concerns about body image, performance anxiety and sexual health issues can all get in the way of positive sexual experiences. But a huge wealth of research goes into combating problems in the bedroom and this has broadened our understanding of sexual pleasure.
Male sex toys are gaining popularity and rigorous research has led to the development of revolutionary medication for sexual health problems such as erectile dysfunction and premature ejaculation. For some men, sex products help them to gain back lost confidence in the bedroom or simply enhance the sexual experience. We picked out 5 of the best products for an exceptionally pleasurable night...
1. Premature ejaculation treatment
It's extremely common to feel anxious about the time taken to ejaculate during sex, with men reporting feelings of distress as a result of quick ejaculation. Despite this, premature ejaculation is an extremely common sexual dysfunction in men and anxiety around the condition may be brought on by the exaggerated view of how long it should take for a man to ejaculate during sex.
One study involving 500 couples found a huge variance in the time taken between penetration to ejaculation (from around 0.6 seconds - 44 minutes), with the average time taken between penetration and ejaculation around 5 minutes. There's no specific amount of time in which sex should last and the occurrence of premature ejaculation is best judged based on whether you and your partner feel satisfied.
So, although the time taken between penetration to ejaculation may have been overinflated, if you or your partner are consistently left feeling unsatisfied, it's worth exploring treatments. One of the most popular treatments for premature ejaculation is Delay Wipes. The Wipes contain a key ingredient (Laureth-9) that work as a mild numbing agent. By reducing sensitivity without compromising on pleasure, there's a greater period of time between penetration and ejaculation. Some men prefer to use Delay Spray, which contains the same key ingredient and works as a mild anaesthetic but comes as a spray, rather than a wipe.
Another method of premature ejaculation treatment is Priligy. The active ingredient in these premature ejaculation tablets is dapoxetine. Dapoxetine is a selective serotonin reuptake inhibitor (SSRI). It works by increasing the activity of serotonin in the nervous system. Serotonin is a neurotransmitter that, among other things, sends nerve signals to inform the body when to ejaculate. The increase in activity of this neurotransmitter helps to harness control over ejaculation.
If premature ejaculation is a persistent problem, you should speak to a clinician about your experience with the sexual health issue. You might want to try natural methods of treating premature ejaculation, such as exercise, therapy, or confronting relationship issues to get to the root of the problem.
2. Erectile dysfunction medication
Despite the wide prevalence, erectile dysfunction is a largely taboo topic. But in recent years, progress has been made to eradicate the stigma associated with the common sexual health condition, with more men opening up, and progressive education on available treatments.
Erectile dysfunction (ED) is both a physiological and psychological condition. If you're not sure what's causing your ED, you can take an Erectile Dysfunction Blood Test that tests for common physical causes of ED, such as high cholesterol and testosterone.
There are several clinically-proven treatments for erectile dysfunction. Most ED treatments work in a similar way, blocking the action of the PDE5 enzyme. Put simply, PDE5 interacts with cell signals and blood flow. A PDE5 inhibitor allows more blood flow to the penis, thereby encouraging an erection.
Effective erectile dysfunction treatments include:
If you regularly experience erectile dysfunction and want to enjoy spontaneous sex, a treatment such as Tadalafil Daily may be suitable.
3. Testosterone Support supplement
The legendary sex hormone plays a critical role in the development of male characteristics and is crucial for puberty. But as men age, testosterone levels decline. This can lead to the male version of menopause, also known as andropause. Testosterone plays a role in libido, so low levels of the hormone could lead to erectile dysfunction.
There are several ways that you can increase your levels of testosterone, including diet, exercise and even the natural herb, ashwagandha. You can support lifestyle changes that encourage the production of testosterone with a supplement, such as Testosterone Support. The supplement is packed with all the essential nutrients and vitamins that your body needs to produce testosterone, optimising sex drive and fertility.
---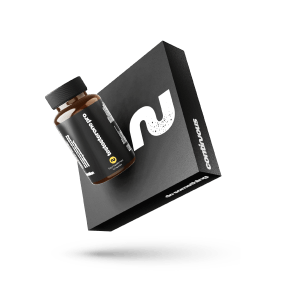 Testosterone Support.
Take control of your hormone health.
---
4. Underwear
It's time to chuck out the old hole-ridden underpants and opt for something much more inviting. Bondara supply a range of underwear for both men and women. But if simply buying hole-free boxers is a sexy enough treat, then try the quirky range at OddBalls.
5. Sex toys
Male sex toys are becoming increasingly popular so there's no shame in introducing a toy to the bedroom - with or without a partner. Sex educator, Alix Fox gives us the run-down of the best sex toys to buy in 2022, and exactly how to use them. Introducing something new to the bedroom can be daunting at first so make sure you read the guide before running into any mishaps.
The numan take
If you're incurring problems in the bedroom, it might be a good idea to start thinking about products that can help. Sex toys, underwear, erectile dysfunction medication and premature ejaculation treatment are all proven ways of enhancing male sexual pleasure.